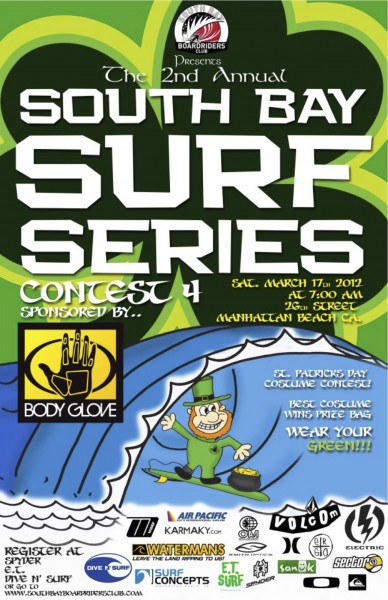 March 12, 2012-  Body Glove is set to host the next installment of the South Bay Surf Series on St Patrick's Day.  Presented by the South Bay Boardriders Club this 6 event series is held in various locations in the South Bay and is hosted by respective surf shops.
The South Bay Surf Series is an all age, co-ed contest for the whole family. There will be ton of prizes for winners and contestants alike. The contests starts bright and early Saturday, March 17th at 7am on 26th Street in Manhattan Beach, CA. There will also be a costume contest for the best St Patrick's Day get-up. Bring the family down for this fun day at the beach and don't forget to wear your green!
Register for the South Bay Surf Series online, by mail or at Dive N' Surf in Redondo Beach, CA.