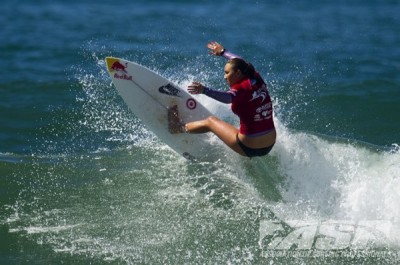 Today at Newcastle's Surfest competitors were greeted with small but clean 2 foot (1 meter) surf for the ASP 6-Star Burton Toyota Pro and the ASP 6-Star Hunter Ports Women's Classic. The last six heats of the Round of 144 of the Men's competition were run, followed by the Round of 48 of the Women's at Merewether beach, with competitors forced to be selective in the tricky conditions.
Sage Erickson (USA) posted a massive two-wave heat total of 17.30 (out of a possible 20) in her dominant Round of 48 hit out today. Ericson is in her rookie year on the Elite ASP Top 17 ASP Women's World Championship Tour.
"Newcastle reminds me of California with these white sand beaches and a lot of wave choices," Erickson said. "I feel at home here. I'm enjoying the scenery and the clear water. The surf is smaller today, but there's a couple of fun peaks coming through. It went my way in that heat and I'm excited for my next one."
Carissa Moore (HAW), reigning ASP Women's World Champion won her opening heat at the Hunter Ports Women's Classic. The young Hawaiian's smooth and powerful surfing saw her clock two excellent score to easily advance to the Round of 24.
"I had a really good time in my heat," Moore said. "I watched it for about an hour before to make a plan of where to sit. I've been working with Adam Robertson, he's a great guy to have around. I've also got a good board shaped by Matt Biolos that's a bit wider and lighter than my normal board."
Sally Fitzgibbons (AUS), runner-up to the 2011 ASP Women's World Title also got her Hunter Ports Women's Classic campaign off to a great start with a big Round of 48 performance.
"Consistency is key to keeping the momentum going," Fitzgibbons said. "With the number of events we have in a row you want to not just have the same performance at each event, but step it up and up. There's a great talent pool in this event and I'm looking forward to the next round."
Philippa Anderson (AUS), the local Merewether surfer advanced to the Round of 24 after finishing 2nd to Elite ASP Top 17 ASP Women's World Championship Tour competitor Paige Hareb (NZL). Anderson snared a last minute left-hander and executed a number of sharp backhand turns, netting a score that would see her advance into the next round.
"That was a close one so I'm stoked to get through," Anderson said. "I just tried to get two quick ones, but I fell off a few at the start. I didn't get that many waves compared to the other girls, I was just lucky that left came through at the end. You just have to be sharp out there when it's small."
Lakey Peterson (USA) went ballistic in the small but rippable surf at Merewether today, posting the highest single wave score of the event thus far – 9.67 (out of a possible 10) and backed that up with a 8.67.
"It's really small but there's a good one every once in a while," Peterson said. "This is a lot like the surf at home in summer, so I'm used to it. I've been away from home for a month now, it can be draining, but it's also a lot of fun."
Jack Freestone (AUS), the 2010 ASP World Junior Champion posted the highest heat total of the Burton Toyota Pro so far in his Round of 144 heat today. Freestone mixed airs and snaps to impress the judges and advance to the next round where he'll face Mitch Crews (AUS), Granger Larsen (HAW) and Bruno Rodrigues (BRA).
"That heat was alright because the waves were fun," Freestone said. "When I woke up this morning and checked the surf it looked kind of bad, but it pulsed in my heat and it was fun. I surfed my little groveller board for doing airs. It was a close heat so I'm happy to get through it."
Newcastle's Surfest will run from 8 – 18 March 2012. More info www.surfest.com