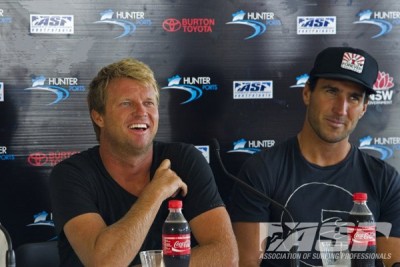 Surfest's headlining events the ASP 6-Star Burton Toyota Pro and the ASP 6-Star Hunter Ports Women's Classic launched in style today at Merewether beach, Newcastle. A press conference featuring a crop of the world's best surfers kicked off proceedings as the opening Rounds of the men's and women's competition got underway in wedgy three foot (1.5 meter) peaks.
Taj Burrow (AUS), current No. 1 on the ASP World Championship Tour, after taking out the opening event on the Gold Coast this month, is thrilled to be back in Newcastle to compete for the Mark Richard trophy.
"It feels good to be on the podium," Burrow said. "It's what we all do this for and I'd love to roll that into another win here. It's great to be in Newcastle, there's so much history with this event and it's good to be a part of it. Now that it's a 6-Star there's a lot more big names in it like Joel (Parkinson), so it's going to be bit harder to win and more action packed for the spectators."
Joel Parkinson (AUS), last year's runner-up to the ASP World Title hasn't competed in Newcastle for over a decade, but is looking forward to getting reacquainted with the Merewether lineup.
"It would be a blessing to get that trophy," Parkinson said. "With the field we've got here it's going to be a tough event to win. I think I made the Quarterfinals last time I was here I'd love to do better this year. We have events all over the world that are well known for their special trophies and this one is special because of its heritage, it would look great at home in my house!"
Carissa Moore (AUS) reigning ASP Women's World Champion is in Newcastle for the first time and is excited to be competing at an event without the pressures of a World Title on her mind.
"I love Newcastle it's beautiful," Moore said. "I'm really enjoying the coastline, the surf and the people have been great. I'm having a blast. I won my World Title seven months ago and I still don't think I'm used to the title 'World Champion'. There are also different pressures and expectations that I'm not used to, but that's why I'm here to relax and have some fun."
Sally Fitzgibbons (AUS), last year's runner-up to the ASP Women's World Title, finished equal 3rd at last year's event. Fitzgibbons won the last ASP 6-Star event in Manly last month and is one of the favourites coming into the Hunter Ports Women's Classic.
"I've been coming here since I was 11-years-old and I love it," Fitzgibbons said. "Last year Coco (Ho) got the better of me in the Semifinals so it would be great to get up towards to the pointy end of the comp again this year."
Luke Egan (AUS), the former Merewether local has been awarded a wildcard into the Burton Toyota Pro and will face Taj Burrow in heat 1 of the Round of 96. Egan retired from full-time competition at the end of 2005 after 18 years on tour, and currently competes in just one or two events per year.
"I like to come back to Merewether as much as I can," Egan said. "I spent 10 days here over Christmas and it's where I come from so it's nice to come back. I'm just hoping for some good waves so I can use some local knowledge, put on a good show and have fun. I still surf and train as hard as I did when I was on tour. This is a measuring stick for me so I can see how I go at the age of 43."
The Burton Toyota Pro than the first 18 heats of the Round of 144 with Gabriel Villaran (PER), Manuel Selman (CHL), Krystian Kymerson (BRA), Jay Thompson (AUS) and Sam Wrench (AUS) the day's top performers. The Hunter Ports Women's Classic completed the Round of 60 with Nikki Van Dijk (AUS) and Dominic Barona (ECU) the standouts.
Newcastle's Surfest will run from 8 – 18 March 2012. More info www.surfest.com