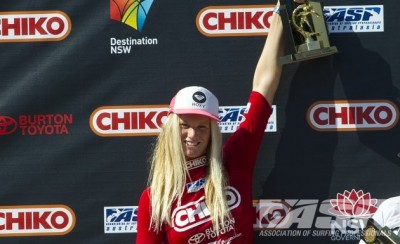 This week Merewether beach, Newcastle set the stage for one of the most exciting Australian Pro Junior combined Men's and Women's events in recent history – the 2012 CHIKO Pro Junior. With epic surf, outstanding performances throughout all four days of competition, the event concluded today in clean three foot (1.5 meter) wedgy peaks with Jesse Mendes (BRA) and Bianca Buitendag (ZAF) claiming the prestigious event crowns.
Jesse Mendes (BRA) took out an action packed Final over Moroccan surfer Ramzi Boukhiam (MAR). Boukhiam held the lead for the majority of the Final after scoring an 8.00 (out of a possible 10) on his opening ride. But Mendes never gave up and hunted down a nice looking wave with only a few minutes on the clock and proceeded to unleash a barrage of sharp power turns. He was rewarded with an 8.15, the highest single wave score of the Final, and enough to see him advance to first position and take the win.
"I feel amazing!" Mendes said. "It's been a while since I've won a major contest. I've been training hard and staying with some friends here in Australia and it's been great. Everyone at this contest has been surfing so amazing, and the waves have been some of the best I've ever had in competition. The Australian competitions are some of the hardest in the world, so I'm stoked to win. It's a great warm-up for the ASP 6-Star Burton Toyota Pro next week."
Jordin Watson (NSW/AUS) was the highest placed Australian surfer in the Men's draw, he finished equal 3rd place after losing to Mendes in the Semifinals. Watson has now moved from 9th to 3rd on the ASP Australasian Pro Junior Series ratings.
"The surf has been really good at this contest!" Watson said. "We're really lucky to have decent sized surf everyday. Third is a good result, everyone wants to make that Final and even win it, but I'm happy. Every heat I've had international surfers and it's been tough, but I managed to get through a few rounds and I'm stoked."
Bianca Buitendag (ZAF) clocked a massive 16.65 (out of a possible 20) to defeat Ellie-Jean Coffey (QLD/AUS), in hard-fought Final. Both surfers had scores in the excellent range, but it was Buitendag's superior wave selection that saw her claim top spot on the podium, securing two waves in the 8-point-range.
"I'm really stoked with this result," Buitendag said. "It's going to really boost my confidence going into the ASP 6-Star Hunter Ports Women's Classic next week. I surf against these girls a lot and I know what to expect, I just tried to do my best and it worked out for me. The waves have been pumping, it's been on fire the last few days!"
Coffey's runner-up finish has now moved her from 3rd to 2nd on the ASP Australasian Pro Junior Series ratings. She is currently in position to qualify for the ASP World Junior Tour later in the year.
"I'm pretty disappointed," Coffey said. "I really wanted to win that one. If I had to lose to anyone I'm glad it was Bianca (Buitendag), we've been friends for a long time and she surfed great today. Coming into this event I really wanted to move up the rankings to help me qualify for the ASP World Junior Tour, so I'm happy about that and hope that I can maintain the spot for the rest of the year."
Newcastle's Surfest will run from 8 – 18 March 2012. More info www.surfest.com