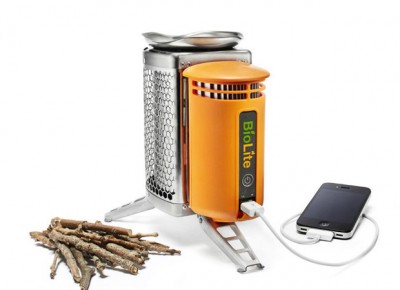 The new BioLite CampStove is currently being manufactured and will be ready for campers this summer, say the creators of the innovative product. The stove is an alternative to portable gas and coal stoves used for camping or general outdoors cooking. Also unique to this stove is the thermoelectric generator that simultaneously powers electronics as it cooks.
It is powered by wood, typically small sticks and twigs that are fed into the cylindrical burn chamber. An orange generator is attached to the outside of the burn chamber where a fraction of the fire's thermal energy is converted into electricity, powering mobile phones, LED lights, GPS and other electronics, according to the company's website.
Since 2008 the product has been receiving a multitude of positive recognition and awards from organizations and events like helicopter rescuers, the United Nations, US-ASEAN Conference, PBS, Business Week and many more.
Find out more information from this video put together by the creators.
httpv://youtu.be/KnfV_3LM5l8