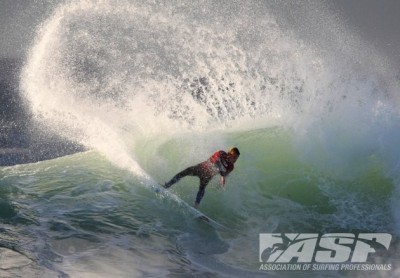 Merewether Point once again offered up perfect conditions with two-metres of south swell held up by a strong north-west wind for day two of the CHIKO Pro Junior at Newcastle's Surfest. The Men's Round of 64 saw some big scores, upsets and plenty of action packed heats.
Matt Banting (AUS) came bursting out of the gates in Heat 1 this morning, setting a score that would remain unsurpassed until the afternoon's outgoing tide offered competitors dredging barrels. Banting pocketed the winner's cheque from both the ASP Pro Junior event and the Men's ASP 6-Star event at the Australian Open of Surfing at Manly last month. Today he carved big turns on the open faces and showed how his style of power surfing excels in bigger waves too.
Wade Carmichael (AUS) was the one who stood up when the afternoon low tide offered up some dredging tubes. The Central Coaster was on fire as posed a perfect 10-point-ride and paired that with a 9.0 to record the highest total of the event so far with a 19.00 (out of a possible 20).
"It was killing me yesterday just watching these shacks and I was really hoping it would be on again today," Carmichael said. "I'm just staying up the road at Ryan Callinan's place, so it's handy and I have been watching the break pretty closely."
Ryan Callinan (AUS) was forced to withdraw from the CHIKO Pro Junior due to an ankle injury, while fellow Merewether surfer and defending CHIKO Pro Junior Champion Jake Sylvester was eliminated in his first heat, causing the upset of the day.
"Horrendous," Sylvester said. "I surfed early and felt really good this morning when I was free-surfing. I've surfed here just about every day of my life and to be caught continually in the wrong spot was really disappointing."
Sylvester still has a chance to impress him hometown crowd as he will be surfing in Sunday's trials for an entry into Surfest's blue ribbon 6-Star Burton Toyota Pro.
David Van Zyl (ZAF) hails from Durban's New Pier, and has been travelling the Australian contest circuit over the past couple of months with his countrymen Michael February (ZAF) and Beyrick De Vries (ZAF) – both of whom who also progressed through their heats today.
The Women's CHIKO Pro Junior Round of 48 will be completed today and action will recommence Saturday at 7.30am with the Junior Men's round of 32.
Newcastle's Surfest will run from 8 – 18 March 2012. More info http://www.surfest.com