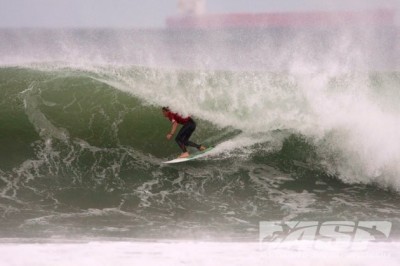 Merewether point offered young surfers from Australasia and around the globe perfection on day one of the CHIKO Pro Junior at Newcastle's Surfest. The two-to-three metre (6 foot) southerly swell that lit up Merewether was whipped up by a deepening low pressure trough that moved up from the Tasman Sea during Wednesday night and formed a surface low off the Central Coast.
While some parts of New South Wales were drenched as a result of the low, Merewether beach experienced stacked corduroy lines to the horizon, providing surfers with consistent tubes, big open faces and down-the-line sections that were exciting for both competitors and spectators alike.
Beyrik DeVries (ZAF) claimed a 10-point-ride, a perfect score in heat seven of the round of 96, for a tube ride that saw him disappear from view behind the curtain. The 19-year-old from Umhlanga Rocks just north of Durban, South Africa, is the number one ranked South African junior sitting at 13th on the ASP World Junior Tour.
"These waves out there today remind me a lot of J-Bay," DeVries said. "You get the same speed, you get to surf up high in the barrel and you see the lines coming through from the horizon. The wave I got a 10.00 on was just perfect – I haven't had a 10-pointer since I was 14. Today was the most fun I have ever had in a heat.
Hairil Anwar (IND) was another international surfer who was thrilled about conditions on offer today. The 18-year-old Indonesian, currently ranked third on the ASP Australasian Pro Junior Series, racked up an impressive heat score of 18.75 (out of a possible 20) – the highest score in the first 17 heats of the day. Anwar has been living in Australia for the past four years with a homestay family and attending high school on the Gold Coast, says his aim this year is to secure a top four finish.
"I just have to keep surfing my best," Anwar said. "Last time I was here it was really small, but this time it is just fantastic. I really want to finish well here and set myself up for a good final result for the year."
Maxime Huscenot (FRA), the 2010 ASP World Junior Champion was surfing Merewether for the first time today – but immediately looked at home in today's testing conditions that had some of the world's best surfers looking out of sorts.
"I just wanted to surf tactically," Huscenot said. "I went out the back and got my 7.5, but I could see the better waves were coming through inside. In competition we often surf small waves and we dream about conditions like this."
The first heat in the water tomorrow will see Port Macquarie giant killer and in-form surfer Matt Banting (AUS) showing just why he won both the ASP Pro Junior and the 6-Star ASP Australian Open in Manly last month.
Today saw 24 heats completed in the CHIKO Pro Junior and action will recommence tomorrow morning with the round of 64 set for a 7.30am start.
Newcastle's Surfest will run from 8 – 18 March 2012. More info http://www.surfest.com