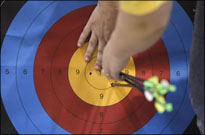 Eight outdoor recreational facilities will be built with $500,000 approved at a recent meeting of the Arkansas Game and Fish Commission.
The projects are in cooperation with the Arkansas Department of Rural Services and are a result of action taken in the 2011 session of the General Assembly. All of the facilities will be open to public use when completed.
The projects and estimated costs for the Game and Fish Commission (additional funding is coming from other sources):
Clarksville, restrooms boat docks, launching ramp, pavilion and parking area on Lake Ludwig, The project includes three new restroom facilities, a pavilion and floating swim docks, $40,000.
Warren, three-station trap and skeet shooting range. The project also includes an archery range, $70,282.
Columbia County, fishing pier on Lake Columbia, $75,000.
Greene County, shooting range. The range will feature four shotgun trap fields on the William E. Brewer Scatter Creek Wildlife Management Area, $78,249.
Boone County, 4-H Club trapshooting and archery range, $45,369.
Bryant, two archery ranges, fishing pier and restrooms at a municipal pond, $43,200.
Gentry, build a community fishing pond. The project calls for two existing spring-fed ponds to be joined together to make one large public fishing pond near Flint Creek, $80,340.
Helena-West Helena, widen and expand a boat launching ramp at Helena River Park, $67,560.
Included in the detailed agreement between the Game and Fish Commission and the city or county participants is the AGFC's long-standing mission statement, "To wisely manage all the fish and wildlife resources of the state of Arkansas while providing maximum enjoyment for the people."
The money for the AGFC's portion of the projects will come from its natural gas leasing bonuses.