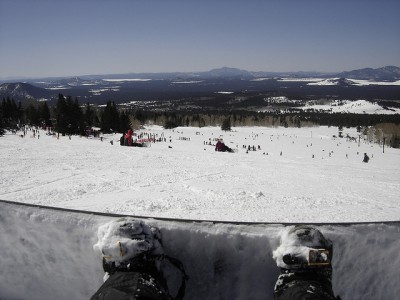 An eye-popping (and possibly nose-clogging) proposal that had been in limbo for about 10 years has finally begun to move forward. The Arizona Snowbowl Ski Resort outside of Flagstaff plans to make snow from reclaimed wastewater, essentially filtered and treated sewage.
A Coconino County Superior Court in January 2012 ruled in favor of allowing the ski resort to construct a pipeline to transport the water to the ski facility, according to a South of Flagstaff Arizona report. The move has been met with great opposition from various Native American tribes who are appealing the ruling, saying that "the reclaimed wastewater would do damage to human health and the environment."
Information about the plan to use reclaimed wastewater cannot be found on Snowbowl's website. Carol Thompson on Great Lakes Echo wrote "There seem to be potential dangers to lining slopes with treated sewage. But shouldn't we be cheering innovative ways to close that ultimate waste cycle?"
Snowbowl is moving forward with development of the pipeline system that will feed directly into the snow-making machines while Native American tribes and others continue to oppose the ruling in court.
Photo: Ariz Travel