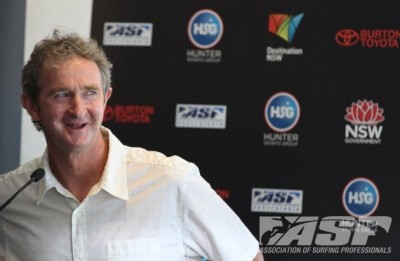 This week Newcastle's Surfest will play host to some of the world's best surfers for the 27th time, making it one of the longest running surf events in Australia. 2012 has also seen the Men's division, the Burton Toyota Pro, upgraded to an ASP 6-Star rating making Surfest one of the biggest surfing festivals in the country also featuring the Women's ASP 6-Star Hunter Ports Classic and the Men's and Women's CHIKO Pro Junior divisions.
Surfest Coordinator Warren Smith and four-times ASP World Champion Mark Richards officially opened Surfest for 2012 at a yesterday's press conference.
"This is Newcastle's only annual international sporting event," Smith said. "Over 700 athletes from 21 countries will visit Newcastle over the 12 days of Surfest. To present the ASP 6-Star rated Burton Toyota Pro and Hunter Ports Women's Classic is great for the city. Also to be able to celebrate the career of Mark Richards by having the MR perpetual trophy truly an honour. We hope the athletes will see this trophy as being one of the most sought after trophies to have your name added onto its honour roll."
Dane Jordan ASP Australasia's General Manager is thrilled to have this historic event offering local and international surfers the chance to compete for such a prestigious trophy.
"The MR trophy is one of the most sought after on the Australian leg of the ASP World Tour," Jordan said. "This is going to be a great event, with up-and-coming surfers from Newcastle, Australasia and throughout the globe getting the chance to compete alongside elite ASP World Championship Tour surfers the likes of Taj Burrow and Carissa Moore."
Taj Burrow (Yallingup, WA/AUS), current world No. 1 after winning the first event on the ASP World Championship Tour last week will be back to contest the Burton Toyota Pro again after bowing out in the Quarterfinals last year.
"This is a great event with a lot of history," Burrow said. "With the increased event rating this year, everyone will be going all out to hold up the Mark Richards trophy at the end. I'm looking forward to it!"
Newcastle's Surfest will run from 8 – 18 March 2012. More info http://www.surfest.com