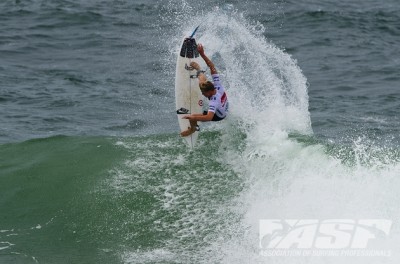 The highly anticipated arrival of ASP World Championship Tour rookie Kolohe Andino (USA), 17, has finally gone down, with the California Prodigy taking a 13th place finish in a solid showing, where he nearly scalped eventual Quiksilver Pro Gold Coast runner-up Adriano de Souza (BRA), 25, in their Round 3 clash. ESPN caught up with Andino to see what his first experience as an official member of the ASP Top 34 was all about… Surfing against Slater, the relief of wrapping up his first event and looking ahead to Bells. This… is their story…
It's been a long time coming for Kolohe Andino, and finally his much-anticipated first ASP World Tour event is behind him. In round one Kelly Slater dropped the hammer, blowing Andino out in the first five minutes. But he came back and got his first heat win in round two against fellow Californian Brett Simpson. Round three was his demise as he fell to Adriano De Souza by a point and a half. All told, a fair outing for the 17-year-old, and a good experience. In an interview with him prior to his departure to Australia, Andino noted that he'd been surfing five hours a day since he was eight years old and that he was as ready as he was going to be. ESPN Surfing caught up with him this week, here's where his head's at after the storm:
First event's behind you, do you feel like there's any weight off your shoulders?
Uh, yeah I mean I had a lot of pressure on myself to do well in the first event only because it was the first event. Now that it is done I can sort of sit back and realize that I'm on tour and how happy I should be to apart of the ASP World Tour.
For the full interview with Andino log on to ESPN.com