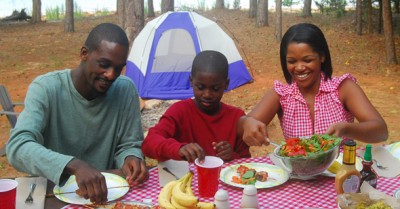 Adults who grew up camping remember the fun of making s'mores by the campfire and sleeping under the stars.  But for those who have never camped before, spending the night outdoors can be an unfamiliar adventure.  Georgia's State Parks have a new program where first-time campers can try out borrowed gear and enjoy a helping hand.
"We realized that some people like the idea of camping, but they're a little intimidated and don't know if they can do it," said the program's coordinator, Cindy Reittinger.  "When they discover that it's easier than they think to pitch a tent, or when they experience the thrill of hearing their first owl, they'll realize how much fun camping can be."
The First-Time Camper Program is a bargain weekend getaway.  For just $45, park guests spend two nights in a modern campground, trying out gear from REI — including a six-man tent, sleeping pads, chairs, camp stove and more.  Park staff will greet campers upon arrival, help them set up their tent and make a campfire, and even give a Camping 101 lesson.  At the end of their two nights away from home, campers return the gear to the park office, but they go home with coupons for their next adventure and memories to last forever.
Author Richard Louv's book Last Child in the Woods shined a light on America's growing disconnect with nature – coining it "Nature Deficit Disorder."  Park officials hope that projects such as First-Time Camper will give families an incentive to explore and appreciate the natural world around them.
"Part of the fun of sleeping in a tent is guessing about the noises you hear at night," said Reittinger.  "What might sound scary at first could be an armadillo scurrying through leaves or a raccoon climbing a tree.  People often get a big laugh when they peek outside and see what it is, and kids love the excitement."
Six of Georgia's State Parks offer the pilot program: A.H. Stephens State Park in Crawfordville, Fort Yargo State Park in Winder, James H. Floyd State Park near Rome, Reed Bingham State Park in Adel, Skidaway Island State Park in Savannah and Victoria Bryant State Park near Lavonia.  Parks were chosen for their variety of outdoor recreation, proximity to larger cities and camp-loving staff.
Groups of up to 20 people can also try the First-Time Camper program at two northern Georgia state parks, Fort Mountain and Victoria Bryant.  Multiple families or groups of friends can camp for one night, with all the benefits of the regular program, plus even more help from park rangers.  Rates vary by the size of the group.  Dates for the group campouts are April 21 and August 18 at Fort Mountain State Park, and June 9 at Victoria Bryant State Park.
Anyone who has never camped in a Georgia State Park may participate.  While dogs are normally welcome in campgrounds, they are not allowed in the program since camping gear is shared among participants.  Once settled in, park guests can enjoy hiking, biking, fishing, boating, geocaching, mini-golf, animal programs and many other activities.  Reservations are required and can be made by calling the individual parks or the program coordinator, Cindy Reittinger, at 404-657-0029.  Park telephone numbers are posted on www.GeorgiaStateParks.org/FirstTimeCamper.