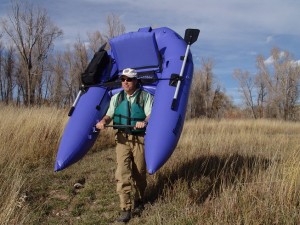 Steamboat Springs, Colo.-based Creek Company, celebrates its 25th anniversary with the introduction of a newly designed personal fishing vessel—the Voyager Frameless Pontoon—that is half the size and weight of anything in its class. The innovation advances access to and enjoyment of fishing in flat and moving water.
"It's one of the most revolutionary products in the category," says Creek Company president Chris Timmerman, whose office sits a fly-cast away from the Yampa River. "We've been developing it for a long time and are proud of how well it exemplifies our brand and the direction of our product offerings for 2012 and beyond."
Using frameless technology 25 years in the making, the high-performance fishing machine measures eight feet long and weighs just 28 lbs.—half that of other boats in its class—while still boasting a 400-lb.-carrying capacity. It is drawing attention from new and seasoned fishermen because set-up takes just three minutes, and its easy-to-carry size and weight make it practical for accessing even the most remote waterways.
Despite its light weight, the Voyager is designed for durability. The hull is built with rugged 30-oz PVC whitewater raft material for exceptional strength, combined with a 30-gauge PVC bladder system fitted with Boston valves for bomb-proof air retention and reliability.
Additional features on the Voyager include:
inflatable seat
D-rings to secure gear
5-foot, 2-piece oars (2) with fold-down oarlocks
carry handles
adjustable foot bar to fit any size person
rear cargo/storage area
large, insulated side gear bag with rod and drink holders
double action pump
stripping apron
carry/storage bag
The Voyager Frameless Pontoon is available online and at most outdoor retailers and fine tackle shops, with an MSRP of $599.99.