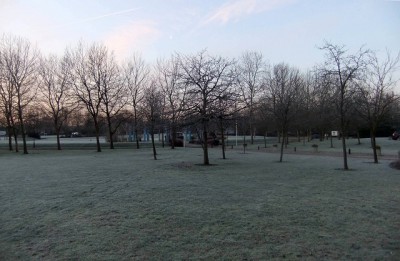 Temperatures in the Midwest and in many other parts of the United States have been unusually high and snowfall exceptionally low for the 2011/2012 winter season. Some industries are adjusting well to the unseasonably warm temperatures, while others have taken a hit, but are not suffering.
Given that so many parts of the outdoor industry are adjusting well, what is it exactly that's being affected?
More Food and Less Predators for Michigan Upper Peninsula Deer
According to a Feb. 21, 2012 report by Jon Gaskell for the Capital News Service, the mild winter could provide more food for deer and give deer an advantage over their predators. The population could also grow, whereas in normal winters many fawns die off within their first year in extreme cold temperatures. Old and unhealthy deer that normally fall victim to severe temperatures might make it in greater numbers as well. All this could lead to an exceptional hunting season in the fall.
Hunting and Fishing Stayed the Same in Ohio, Even Though Patterns Changed
Vicki Ervin, the communications manager for the Ohio Division of Wildlife, said this year was the first time Lake Erie didn't freeze over for fishermen. So there were no shanties on the lake with ice-fishers in them, anglers still took to the water on their boats.
As far as hunting goes, Ervin recalled one week in January where temperatures were in the 40s and 50s. She said the kill numbers went up that week as more hunters ventured out. "It doesn't change those things," Ervin said, referring to hunting, "it changes the patterns of those users; they adapt to it."
Outdoor Product Sales Take a Big and a Small Hit
The final figures on outdoor product sales presented a complex result. Because of the "unusually late and tame onset of winter", January sales rose by a slow one percent growth, according to a report by by the Outdoor Industry Association and The SportsOneSource Group. Certain outdoor products performed better than others, such as a strong sale of footwear and apparel.
Other outdoor products were not so fortunate to have grown. TMJ4 in Brookfield, Wisconsin reported that many motorsports shops are sitting on unsold snowmobile inventory. Bob VanZeist, owner of Don & Roy's Motorsports, said, "People aren't riding as much so service is down, parts, consumption's down so it's kind of hurt across the board and it's really created more cabin fever than we're accustomed to."
On a side note, snowmobile registrations are down 40 percent from last year in the state of New York.
Snowmobile Fatalities Down in Wisconsin
Todd Schaller, the conservation warden for the Wisconsin Department of Natural Resources, said his department has noticed less snowmobilers and ice-fishers this year. "Three weeks ago our non-residence trail pass [for snowmobiles] was down over 30 percent," Schaller said. On a positive note, less snowmobiles means less accidents. "We have had less snowmobile fatalities, which is reflective a little bit on the volume of use," said Schaller.
Mountain Sports Will Survive Through the Mild Winter
Surprisingly, mountain resorts seem to be affected less than expected. Both Shanty Creek Resorts and Boyne Mountain Highlands Resort (and similarly Boyne Mountain) in Michigan reported that despite a very small Christmas-time/holiday season, which is their most important, the resorts have retained enough customers in January and February to keep the business afloat. "It will not be a record year, but it will not be our worst year," said Steve Kershner, the director of snow sports at Shany Creek Resorts.
Boyne Mountain Highlands' natural snowfall totaled 52 inches through February, which is 30 inches less than this time last year. Compare those numbers to the 2008-09 season when total snowfall reached a higher-than-average 157 inches. Erin Ernst, the director of communications for Boyne, said the biggest problem the ski resort has experienced is actually not the snowfall, but the warm temperatures. The resorts and ski hills at Boyne have had to put additional resources into snowmaking this season to keep surface conditions at their best.
Campers Venturing Out Early
Outside of the Midwest, campers in West Virginia are already making reservations for campsites. State Parks Chief Ken Caplinger said, "This time of year, with the temperature as mild as I can remember, more campers than usual are checking the state parks website for campsite reservation forms."
Overall, there are ups and downs in response to the warmer weather all across the board in the outdoor industry. Some hunters and the hunted are reaping the benefits while they last, while others are keeping their fingers crossed that winter 2012/2013 won't be so warm.
Photo: (landscape) Gwydion M. Williams, (skier) Wendy Seltzer