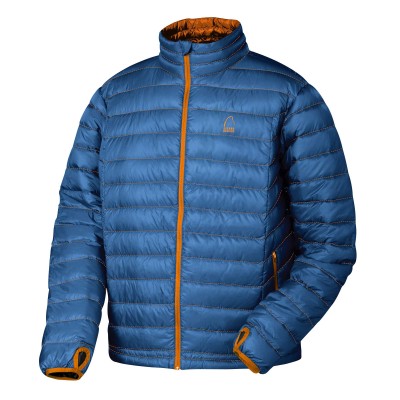 Sierra Designs, outdoor equipment and apparel innovator since 1965, proudly introduces game-changing DriDown insulation in the new for fall 2012 men's and women's Tov belay and Gnar Lite jackets.
The key to DriDown's performance is Sierra Designs' proprietary molecular level polymer application, making each individual down plume hydrophobic.  Insulated with DriDown, Sierra Designs' Tov and Gnar Lite jackets stay dry 7 times longer in the presence of rain, melting snow, or spills, maintain loft more effectively in high humidity environments, and dry 33% faster when they do get wet for a dryer, warmer, more comfortable backcountry experience.
"DriDown represents the evolution of down insulation, vastly improving the performance of any insulated jacket," said Sue Timbo, Sierra Designs marketing director.  "It's widely accepted that down is the best insulation available… until it gets wet.  DriDown™ solves this problem by tolerating moisture to say drier, loft better, and dry faster.  Originally launched in a line of Sierra Designs sleeping bags, DriDown will now be the insulation of choice all day and all night."
Whether earning your turns, sitting on belay, or summiting a 14er, Sierra Designs' Tov ($259) and Gnar Lite ($229) jackets with DriDown insulation will keep you dryer and warmer than jackets with regular down insulation.  DriDown's hydrophobic finish helps prevent sweat, rain, or melting snow from soaking into the down while allowing internal moisture to escape easily, maintaining loft for optimum thermal efficiency.  And if the Tov or Gnar Lite jackets do get wet, DriDown™ allows them to dry faster than jackets with ordinary down.
Both the Tov and Gnar Lite jackets by Sierra Designs will be available at specialty retailers across the country fall 2012.