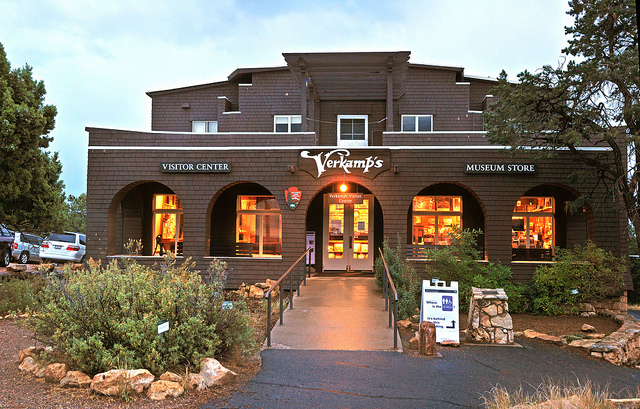 Outdoor recreation on Arizona's public lands is a $5 billion industry, according to a 2006 report by the Outdoor Industry Association. Hikers, climbers, campers, hunters, fishermen, mountain bikers and more Arizonans and tons of people from across the United States and the globe enjoy the natural beauty Arizona has to offer.
Many, if not most, tourists in Arizona are coming to Grand Canyon National Park, which generates $415 million of that $5 billion industry. And while the visitors are soaking in the sights, the local economy is reaping the benefits, as "the direct effects of visitor spending are at the local level in gateway regions around national parks," according to the National Park Service's Economic Benefits to Local Communities from National Park Visitation and Payroll, 2010 report (pdf).
The same report finds that spending in Grand Canyon territory had a greater economic impact on local economies than another very popular national park that is almost double in size to the Grand Canyon – Yellowstone National Park. The Grand Canyon National Park had an estimated 750,000 more visitors in 2010 that generated over $80,000 more in visitor spending than Yellowstone.
The graph below is taken from the aforementioned report. It's a quick reference for comparison of the spending and economic impacts of national park visitors on local economies between the Grand Canyon and Yellowstone national parks.
| | | | | | | | |
| --- | --- | --- | --- | --- | --- | --- | --- |
| | Public Use Data | Public Use Data | Visitor Spending 2010 | Visitor Spending 2010 | Impacts of Non-Local Visitor Spending | Impacts of Non-Local Visitor Spending | Impacts of Non-Local Visitor Spending |
| Park Unit | 2010 Recreation Visits | 2010 Overnight Stays | All Visitors ($000's) | Non-Local Visitors ($000's) | Jobs | Labor Income ($000's) | Value Added ($000's) |
| *Grand Canyon NP | 4,388,386 | 1,245,883 | 415,797 | 415,797 | 6,167 | 167,945 | 265,834 |
| *Yellowstone | 3,640,185 | 1,306,318 | 334,445 | 334,445 | 4,881 | 135,847 | 225,635 |
* For these parks, results are based on a visitor survey at the designated park. For other parks, visitor characteristics and spending averages are adapted from national averages for each park type, adjusted for surrounding populations and spending opportunities.
Original press release issued by the National Park Service on February 28th, 2012:
A new National Park Service (NPS) report shows that almost 4.4 million visitors spent more than $415 million in Grand Canyon National Park and in gateway regions around the park in 2010. In addition, visitor spending supported 6,167 jobs in the local area. The four economic/job sectors most impacted by this visitor spending were lodging, restaurants, retail trade, and entertainment/amusement.
"Grand Canyon National Park is an international icon, attracting visitors from around the world. It's no surprise that it has a substantial impact on the local economy," said Grand Canyon Superintendent Dave Uberuaga. "The opportunity to engage in a wide array of popular recreational activities in one of the world's premier geologic landscapes is a tremendous draw for tourism dollars."
These figures are based on $12.1 billion of direct spending by 281 million visitors in and around 394 national park units around the country and are included in an annual, peer-reviewed, visitor spending analysis conducted by Dr. Daniel Stynes of Michigan State University for the National Park Service. According to the analysis, the 22 national park units in Arizona alone attracted more than 10.5 million visitors who spent approximately $671 million and supported 9,661 jobs in the state.
Across the U.S., local visitor spending added a total of $31 billion to the national economy and supported more than 258,000 jobs, an increase of $689 million and 11,500 jobs over 2009.
To download a copy of Dr. Stynes' report, please go to www.nature.nps.gov/socialscience/products.cfm#MGM and click on Economic Benefits to Local Communities from National Park Visitation and Payroll, 2010. The report also includes information for visitor spending at individual national parks and by state.
For more on how the NPS is working within Arizona, go to www.nps.gov/arizona.
Photo: Grand Canyon National Park Service