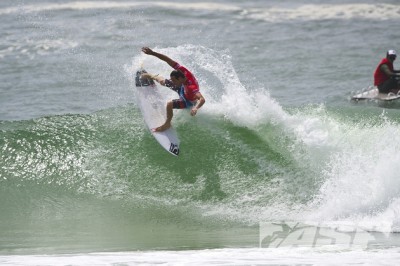 The Quiksilver Pro Gold Coast presented by Land Rover, the opening stop on the 2012 ASP World Championship Tour, was back on today with the elimination Round 2 completed in clean three-to-four foot (1 metre) conditions at Snapper Rocks.
Jordy Smith (ZAF), 24, came flying out of the gates in his this afternoon, scoring an 8.33 (out of a possible 10) and a 9.10 on his opening two waves. Smith surfed smooth and fast to eliminate veteran powerbroker Taylor Knox (USA), 40.
"I just had to make sure I was on the waves that allowed for those big power turns," Smith said. "If I could do that and mix it up with some explosive stuff, I knew I'd get the scores I wanted. After losing yesterday, I promised myself I'd go out there and have fun. I'd built this contest up way too much in my head and now I'm feeling more relaxed."
Joel Parkinson (AUS), 30, 2011 ASP World Runner-Up, was back to winning form today after a shock Round 1 loss at his home break yesterday. Parkinson eliminated trials' winner and runner-up to the 2011 ASP World Junior Title Garrett Parkes (AUS), 20, in a one-sided affair.
"Snapper always has a bit of morning sickness, and being a local helps me to know where to sit," Parkinson said. "Yesterday I knew no one loses in Round 1, it was a great heat to be in and a good warm-up for the event. I walked away thinking I didn't have a shocker and the tour is all about man-on-man heats. Then today I expected Garrett (Parkes) to throw out some big scores, the kid has a big future, it's only a matter of time before he takes down a big name and I'm glad it wasn't me."
Taj Burrow (AUS), 33, and Dane Reynolds (USA), 26, had the Sunday Snapper crowd on their feet in their epic Round 2 clash this morning. Both surfers unleashed big aerials and monster carves, but it was Burrow who was able to find the lengthier waves and link his turns together to advance to Round 3.
"It was good to get that one out of the way because I was tossing and turning last night thinking about what I was going to do against Dane (Reynolds)," Burrow said. "His approach to surfing is kind of the same as mine, so I'm glad we put on a show. Before that heat I hadn't really had a good wave out there yet this year, because yesterday I only caught one piddly two footer. I was just finding my feet today at the start of that heat, then I saw Dane hang his board out on a couple of turns and it got me pumped."
Yadin Nicol (AUS), 26, 2012 ASP Top 34 rookie, won his first ASP World Championship Tour heat at the Quiksilver Pro today over highly-touted fellow rookie Gabriel Medina (BRA), 18. Nicol qualified for the elite ASP World Championship Tour during last year's mid-year rotation (as did Medina), but was forced to give up his spot due to an ankle injury.
"It was a frustrating six months being injured and missing the events," Nicol said. "The last five minutes of that heat was nerve-racking, so to get the win, I'm over the moon. I'm stoked. I wasn't really nervous, but I was focused on winning that first heat on tour. I didn't want to be the guy who goes the whole year without a win, and now I don't have to worry about that now I'll see what I can do from here."
Jeremy Flores (FRA), 23, snuck through a tight heat against Jadson Andre (BRA), 21. Flores and Andre both pulled into multiple tubes but failed to find exits, until Flores threaded a classic behind-the-rock barrel to score an 8.17 (out of a possible 10) and take the win.
"I knew there was going to be some barrels on the low tide," Flores said. "I wanted to get barrelled, I got a few and was so close to coming out and didn't make any except the one. Maybe it was the pressure. I'm feeling a lot of pressure at this event, like I'm a rookie again. I don't know why, this is my sixth year on tour. I'm only 23-years-old, but kind of feel like an old guy with all these rookies. It's good it makes us work more. I've been trying to push myself and do some turns that I haven't done before."
Kolohe Andino (USA), 17, battled fellow Californian Brett Simpson (USA), 27, in the final heat of the day, with young Andino taking a first win in his highly-anticipated ASP World Championship Tour debut. Andino showed rookie nerves, falling and catching the wrong waves at the start, but managed to pull it together and lock in some impressive scores in the back half of the heat.
"I'm stoked to win my first heat on tour," Andino said. "I don't think I was surfing too good though. I was kind of jittery out there with all my nerves and stuff. The end of the waves were kind of tweaking me because they were dumping in shallow water. I didn't see to many people doing airs today, so I just tried to go for one out the back and I'm stoked that I did."
Event organisers will reconvene at 6:30am to access conditions for a possible 7:30am start.
Today's highlights available via www.quiksilverlive.com/progoldcoast/2012