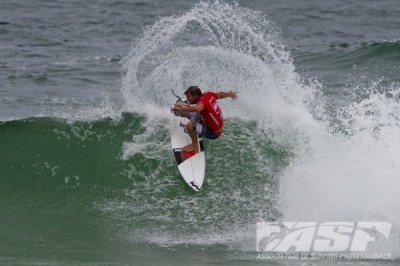 Round 2 of the Quiksilver Pro Gold Coast presented by Land Rover has been called on this morning with the opening heat hitting the lineup at 7:30am. The surf has maintained in the three-to-four foot (1 metre) range since yesterday, and the world's best surfers will do battle in this season's first elimination round at the primary venue of Snapper Rocks.
The opening event of the 2012 ASP World Championship Tour season, the Quiksilver Pro Gold Coast saw standout performances yesterday in the form of reigning 11-time ASP World Champion Kelly Slater (USA), 40, rookie sensation John John Florence (HAW), 19, and Lennox Head's Adam Melling (AUS), 26. Today's match-ups promise more of the same with perennial ASP World Title threat Taj Burrow (AUS), 33, matched up against dangerous wildcard Dane Reynolds (USA), 26, in the second heat of Round 2.
"We have low tide this morning and rippable three-to-four foot (1 metre) surf on offer and the men will be on at 7:30am," Rich Porta, ASP International Head Judge, said. "We'll be monitoring conditions as the tide comes up and will have the women on standby for a possible start around mid-morning. The goal is to complete Round 2 of both the men's and women's, but, as always, we'll be monitoring conditions throughout the day. Good luck to all our competitors today."
Up first this morning will be Joel Parkinson (AUS), 30, against wildcard and trials' winner Garrett Parkes (AUS), 20, in the opening heat of the elimination Round 2.
The Quiksilver Pro Gold Coast will be LIVE via http://quiksilverlive.com/progoldcoast/2012