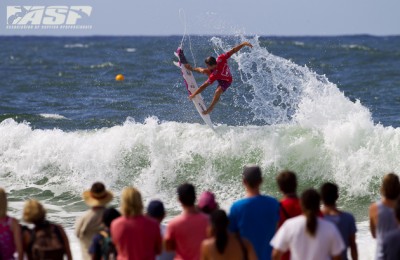 The Quiksilver Pro and Roxy Gold Coast presented by Land Rover, the opening stop on the 2012 Men's and Women's ASP World Championship Tours, ran for the third consecutive day at Snapper Rocks today, and the world's best surfers collectively lifted the high-performance levels today in two-to-three foot (1 metre) waves at Snapper Rocks.
Julian Wilson (AUS), 23, 2012 ASP Top 34 sophomore, found form in his Round 3 heat against Adam Melling (AUS), 26, posting the highest heat total of the day, an 18.57 out of a possible 20. On his third different board in as many heats, it appears that the young natural-footer has dialed in his equipment moving forward.
"I lost in this round last year in a close one against Taj (Burrow) and went on to lose a bit early in the next few events so I was nervous before that one," Wilson said. "I did want to make a statement. In my first two heats I wasn't myself – it didn't feel like it was coming together for me. Then in that heat I felt a lot better, felt solid on my board and good to get some high scores."
Wilson will take on Adrian Buchan (AUS), 29, and Taj Burrow (AUS), 33, in Round 4 of competition.
Miguel Pupo (BRA), 20, caused the biggest upset of the event thus far by eliminating perennial event favourite and two-time ASP World Champion Mick Fanning (AUS), 30. Pupo put pressure on Fanning early in the heat by posting a 7.60 (out of a possible 10), and the local Queenslander was unable to recover from a slow start.
"I just tried to find good waves because it's pretty tough out there," Pupo said. "I had to win that one, to be on tour you have to beat the big boys. Mick (Fanning) surfs so good. He's got a couple of ASP World Titles and I knew that it would be a tough one. I tried my best."
Pupo faces Joel Parkinson (AUS), 30, and Jordy Smith (ZAF), 24, in Round 4 when competition resumes.
Owen Wright (AUS), 22, opened the day with an exciting match-up against compatriot Matt Wilkinson (AUS), 23. The pair of goofy-footers gave the crowd a sensational display of backhand surfing at Snapper Rocks, with Wright getting the better of the exchange by a mere 0.40.
"That was our first man-on-man heat on the world tour," Wright said. "I was really nervous before the heat, but once I got out there I felt comfortable. I knew he was going to get an 8-point-ride, and I knew I could answer straight back. We went wave for wave, score for score, there was nothing much in that heat. We were paddling in and none of us knew who won and I was just happy that one of us was going through to the next round."
Wright will battle Josh Kerr (AUS), 27, and Adriano de Souza (BRA), XX, when competition resumes
Kelly Slater (USA), 40, reigning 11-time ASP World Champion and defending Quiksilver Pro Gold Coast winner, once again put on a dominant performance at Snapper Rocks over Fredrick Patacchia (HAW), 30. Slater's signature searing forehand carves saw him earn two scores in the excellent range to easily advance to Round 4.
"I could see that Freddy's (Patacchia) game plan was to sit and wait for those open faced waves," Slater said. "I just wanted to get moving. There are a few sneaky ones that don't look good at the peak, but grow down the point. At the start I fell on a couple of good ones, and either one of those could have been a good score. Then I got into a couple of good ones and got some scores, and Freddy never really got into it. Everyone always makes a big deal about weather I'm going to keep going on. When I'm going to quit I'll tell everybody, how about that?"
Slater will take on Michel Bourez (PYF), 26, and Heitor Alves (BRA), 29, in Round 4 of the Quiksilver Pro Gold Coast.
Adriano De Souza (BRA), 25, used his experience in his seventh appearance at the Quiksilver Pro Gold Coast to take the Round 3 win over ASP World Championship Tour rookie Kolohe Andino (USA), 17.
"It was a tough heat for sure," De Souza said. "I respect Kolohe (Andino) a lot, he's only 17-years-old, but he can do a lot of damage out there. I'm feeling good and trying to concentrate on myself, I came here 10 days early and really know the wave out there, and I think my experience from 7 years on tour helped me in that heat. I was trying defend my position in the top 5 and he's trying to do well in his first event, it was a good heat."
In addition to the searing men's action throughout the day, the Roxy Pro Gold Coast saw the ASP Top 17 battle through the elimination Round 3 with sterling performances from some new faces.
Laura Enever (AUS), 20, 2012 ASP Dream Tour sophomore, posted a big win in her non-elimination Roxy Pro Round 3 clash against Paige Hareb (NZL), 21, and reigning ASP Women's World Champion Carissa Moore (HAW), 19. With today's victory, Enever will now advance directly into the Quarterfinals while Hareb and Moore have to battle it out in Round 4.
"It was a good heat," Enever said. "Paige (Hareb) got a 9.30 and Carissa (Moore) got an 8.07, and I was thinking I've got my work cut out for me. I just decided to wait for a good one, and I saw that wave and I did my first turn and let go and it all worked out. I got into the Semis last year and I'd love to go one or two better this year."
Stephanie Gilmore (AUS), 24, the 4-times ASP Women's World Champion also advanced to the Quarterfinals of the Roxy Pro today after posting two solid score in the 8-point-range (out of a possible 10). It's clear Gilmore is familiar with the Snapper lineup as she caught the best waves and timed her carves and turns perfectly.
"That Round 3 when no-one loses is pretty relaxed, but skipping Round 4 is also on everyone's minds," Gilmore said. "It's hard out there performance wise because there's not a lot of waves with sections on offer. I didn't watch too many heats before mine, but saw Laura (Enever) get a couple of good ones. She looks like she's got something to prove, she's so radical with her hair flicks and tail slides, it definitely fired me up to go out and put on a show too."
Malia Manuel (HAW), 20, and Tyler Wright (AUS), 17, took out the other two heat of Round 3 by posting some excellent scores to skip Round 4 and advance directly into the Quarterfinals.
Event organisers will reconvene at 6:30am to access conditions for a possible 7:30am start.
Today's highlights available via www.quiksilverlive.com/progoldcoast/2012