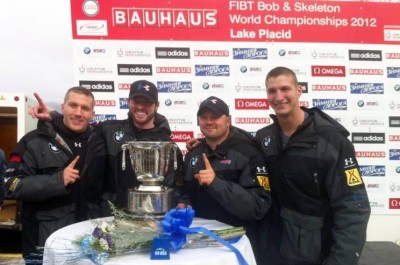 Kampgrounds of America is celebrating its 50th Anniversary  in 2012 and, as part of its ongoing support for outdoor fun, sports, and all kinds of "recreational vehicles," renewed its sponsorship of the United States Bobsled/Skeleton teams thru the next Olympic Winter Games.
The U.S. team is hoping to maintain momentum after a successful first weekend of World Championship medal performances on Mt. Van Hoevenberg.  Elana Meyers and Katie Eberling secured bronze while racing in the women's KOA bobsled on Saturday to continue the program's trajectory of success and to set the pace for Steven Holcomb and Steve Langton, who made history as the first U.S. team to win a two-man bobsled World Championship crown on Sunday.  The bobsled and skeleton team combined efforts to claim the team event title as well to medal in all three events.
Meyers and Eberling had ballistic starts in the KOA sled, dominating their women's bobsled competitors with the four fastest push times. The pair was 0.11 seconds from silver after the first two heats of racing, but they were unable to make up time in the finals.  A four-heat total time of 3:49.57 secured bronze for USA-1 in a competitive field of 17 sleds.
USA-1's medal performance was a breakthrough for the second-year pilot and rookie brakeman.  Meyers is best known for her skills as a powerhouse brakeman, having won a silver medal as a pusher for Shauna Rohbock at the 2009 World Championships and the 2010 Olympic bronze medal with Erin Pac.  Eberling made an immediate impact in the sport after winning the 2011 National Push Championship title after only a few runs in the back of the sled.  The duo didn't have any expectations; they were just eager to compete on home ice.
"Katie definitely didn't act like a rookie, she fit in really well with the veterans," Meyers said.  "I guess it was her great career at Western Michigan that prepared her for this time.  Who would have thought volleyball to bobsled?"
Holcomb and Langton carried the momentum from the women's race to claim the first two-man bobsled World Championship title ever for the U.S. in the 2012 contest for the crown.  All three U.S. teams entered into the competition posted top nine finishes to cap a successful two-man season for the program.
"It feels phenomenal to be World Champion," Holcomb said. "You know, we won the World Championships here in 2009 and it was great, but this is my first two-man title.  I think that the hard work we put in during the off-season and all the work we've put in this season has really paid off."
Holcomb started making history when he won the first four-man bobsled title in 50 years for the U.S. during the 2009 World Championships in Lake Placid, and then again made history by earning the first Olympic gold medal for the program in 62 years in 2010.  His string of record-breaking runs continued today with world push champion Langton pushing him along.
"It feels pretty fantastic," Langton said. "I have had some success, but to come out here and win my first big championship is pretty amazing. The feeling is really indescribable; it honestly really hasn't sunk in yet."
"I drive the sled, Langton pushes it-I mean I help push it- but there are so many other people that go into the little things of the day to day operation of the team," Holcomb said.  "I know I gave Shimer a hard time about being in the garage that late, but he really did spend that much time out there making sure the sleds were perfect.  We were in the garage late last night making some adjustments that we thought might help and you saw the first run and it worked out.
"I can't say enough about Holcomb, he is just unbelievable," Shimer said. "He is such a talented pilot and anything you throw at him he just seems to get down the hill quickly. This is just a really great moment for USA bobsled.  A little more history being made."
Holcomb and Langton's historic title was won with a total time of 3:42.88.  Rush and Lumsden earned silver with a four-run combined time of 3:43.34, while Germans Maximilian Arndt and Kevin Kuske clocked an aggregate time of 3:43.43 for bronze.
Just hours after Holcomb captured the two-man bobsled World Championship title, he helped the U.S. earn the team competition crown to cap a successful weekend of medal performances.
"Two World Championship titles in one day is pretty great," Holcomb said.  "Competing in the team event is always fun, so it's really awesome to be up here with my teammates."
Athletes in women's and men's skeleton and women's and men's two-man bobsled take one run each for a four-run combined time in the team event.  The nation with the lowest combined time is declared the winner.
The team was victorious by a huge margin of 0.73 seconds after posting a combined time of 3:44.98.  Germany posted a total time of 3:45.71 to claim the silver medal, while team Canada was third with a four-run combined time of 3:46.28.
World Championships continue Thursday through Sunday with the women's and men's skeleton races and the four-man bobsled contest for the 2012 title.
Kampgrounds of America, founded on the banks of the Yellowstone River in Billings, Montana in 1962, is now the world's largest system of open-to-the-public family campgrounds. KOA has 485 locations in the United States and Canada.