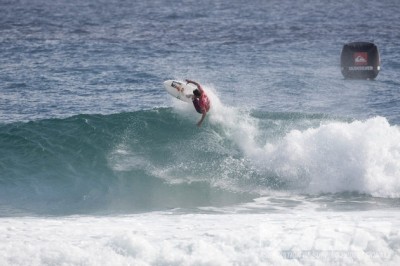 The Quiksilver Pro presented by Land Rover is poised for a blockbuster opening with wildcard Dane Reynolds to meet world No.2 Joel Parkinson.
Reynolds (USA) was given one of two wildcards to the event after deciding to sit out the ASP World Tour in 2012.
He is widely regarded as one of the most creative and talented surfers on the planet ensuring local favourite Parkinson has a major battle to open the event.
Parkinson and Reynolds will be joined by Adam Melling (Aus) in the fifth heat of Round 1.
Reynolds had already secured a wildcard for the event, while the two remaining wildcard spots for the Quiksilver Pro and Roxy Pro were finalised today in blustery, wet conditions with the winners of the Moskova Trials joining the main field.
Byron Bay's Garrett Parkes has booked himself a Quiksilver Pro Round 1 heat against 11-time World Champion Kelly Slater (USA) and gun rookie Kolohe Andino (USA). In a low-scoring final, Parkes scored 12.75 to defeat Cristobel De Col (PER), Noah Lane (AUS) and Alain Riou (PYF).
Parkes' inclusion in the main draw is just reward for his heartbreaking loss to Brazil's Caio Ibelli for the ASP World Junior Championship on the Gold Coast in January. The two finished on equal points and were forced into a "surf-off" with Ibelli prevailing.
"It was really tough out there today," Parkes, 20, said. "I don't think a wave came through for the whole second half of the heat so I was lucky to get two scores at the start and knew if I kept paddling and kept the inside I should be right and that's what I did.
"I didn't think about it (surfing against Slater) until then, but it should be good fun. I've surfed The Pass a lot at home so I've had plenty of practice on righthand sand banks."
Philippa Anderson from Newcastle won the women's trial and will meet defending World Champion and Roxy Pro event champion Carissa Moore in the opening round. Anderson dominated the final to score 15.75 to finish well clear of Winni Paul (NZL), Joanne Defay (Fra) and fellow Australian Dimity Stoyle.
"No words can describe this," Anderson, 20, said. "I have been in the trials for three years now and I've always bombed in the first heat.
"To be surfing at Snapper and to get the opportunity from Roxy and now I'm surfing against Carissa Moore. I'm so thankful. I didn't think when I woke up this morning that I would get first."
Four-time World Champion Lisa Andersen failed in her competitive return losing to Anderson and Stoyle in the first round.
Andersen, 42, won four consecutive World Titles from 1994-97, and was making a competitive return for the first time in six years.
The main event is scheduled to start tomorrow with a promising swell forecast.
Both the Quiksilver Pro and Roxy Pro events will be webcast live on QuiksilverPro.com.au, RoxyPro.com.au, Youtube, Facebook and the Quiksilver iPhone app as well as exclusively telecast on Fuel TV. For all the action, interaction, heat alerts, competitions and the latest information visit quiksilverpro.com.au or roxypro.com.au.
The 2012 Quiksilver and Roxy Pro presented by Land Rover is supported by Events Queensland, Corona, Telstra, Schick Hydro, Peters Drumstick, Red Bull, Olympus Cameras, Vegemite SurfGroms, Lipton Ice Tea, Sharpie, VX Sport, Surfing World magazine, Coastalwatch, Gold Coast Airport, Gold Coast City Council, Connecting Southern Gold Coast, World Surfaris and Fuel TV.