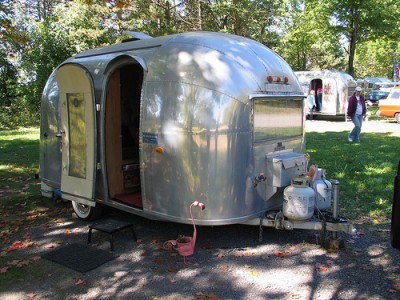 Take a step back in time and relive those childhood memories of summer camping by attending the Vintage Camper Gathering and Open House, set to take place from 11 a.m. to 4 p.m.on Saturday, June 9, atP.J.HoffmasterState Park in Muskegon.
Camp along the lakeshore and take a nostalgic tour around the park while visiting with other vintage camper enthusiasts from across the Midwest.  Club members from the Tin Can Tourists and Tear Jerkers will be displaying their vintage trailers. Join in the fun, sit and reminisce, make a craft item or play an old-time game.
All reservations are welcome; however, owners of vintage or unique camping equipment who would like to participate in the open house are encouraged to make early reservations in order to secure a spot in or near the already reserved sites of 174 through 230. To learn more about the event, contact Terri Creeden at 231-798-3711 or [email protected].  To make camping reservations, call (800) 447-2757 or visit www.midnrreservations.com.
P.J.HoffmasterState Parkis located at 6585 Lake Harbor Road in Muskegon (Muskegon County). For information on the park, visit www.michigan.gov/hoffmaster.
A Recreation Passport is required for vehicles entering P.J.Hoffmaster State Park. The Recreation Passport has replaced motor vehicle permits for entry into Michigan state parks, recreation areas and state-administered boating access fee sites. This new way to fund Michigan's outdoor recreation opportunities also helps to preserve state forest campgrounds, trails and historic and cultural sites in state parks, and provides park development grants to local communities.
Photo: dwstucke