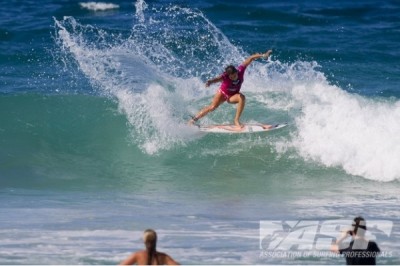 The 2012 ASP Women's World Championship Tour season will commence this weekend with the Roxy Pro Gold Coast presented by Land Rover, and the world's best female surfers will do battle at the Gold Coast's famed righthander of Snapper Rocks.
Sally Fitzgibbons (AUS), 21, 2011 ASP Women's World Runner-Up, is approaching the Roxy Pro Gold Coast with renewed vigour after a wrist injury sustained earlier this year. The young Australian rebounded from her time out of the water in sensational form, scalping the ASP 6-Star Australian Open of Surfing in Manly last week and has her sights firmly set on the 2011 ASP Women's World Title.
"We had a long offseason between the last event in August and the first one coming up here this week but it felt like it went by quickly," Fitzgibbons said. "My training and preparation for this season was obviously disrupted when I fractured my wrist in Fiji so I didn't get to spend as much time in the water as I would have liked to. That said, it's feeling much better and definitely winning the Australian Open last week was a huge boost of confidence for me."
The talented natural-footer has finished ASP Women's World Runner-Up in back-to-back seasons, but went on a winning spree last year, collecting three elite tour victories along the way.
"The World Title is the goal," Fitzgibbons said. "That's what I've always been focused on and I feel like I've been building a steady momentum through the last few seasons. Winning those events last year was a big monkey off my back and really helped with my confidence. I feel like I'm in a position to challenge for the ASP Women's World Title in 2012."
Fitzgibbons will face Paige Hareb (NZL), 21, and Sarah Mason (NZL), 16, in the opening round of competition.
The Roxy Pro Gold Coast will run from February 25 through March 7, 2012 and will be webcast LIVE via http://quiksilverlive.com/progoldcoast/2012
Running in conjunction with the women's event will be the Quiksilver Pro Gold Coast presented by Land Rover, the opening event in the ASP World Title season.