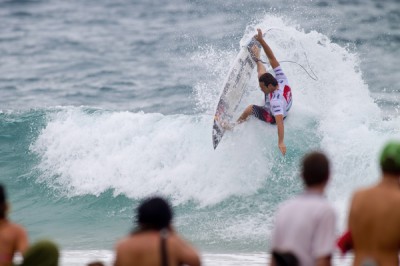 The 2012 ASP World Title Series is just days away from commencement and with the highly-anticipated Quiksilver Pro Gold Coast presented by Land Rover looming just around the corner, the world's best surfers are prepped and ready to launch their respective ASP World Title campaigns.
The first of 11 stops on this year's ASP World Title Series, the Quiksilver Pro is slated to see ASP Dream Tour veterans Joel Parkinson (AUS), 30, and Jordy Smith (ZAF), 24, start their season with authority as they battle surfing's next generation of hungry rookies.
Parkinson, a four-time ASP World Runner-Up, has developed a reputation for having a spartanesque training regimen. While admitting to the benefits of physical fitness in competition, the stylish natural-footer feels that his mental-toughness developed over years of competition will aid in his ability to perform at this year's Quiksilver Pro Gold Coast.
"I've been training to try and get ready, but not as intense as the last few years," Parkinson said. "I've been surfing heaps too, it's been great. My training and preparation is pretty much all physical, but I've built up a fair bit of mental toughness over the years. I've never really had a problem getting focused for an event."
Parkinson, a two-time winner of the Quiksilver Pro Gold Coast (2002, 2009), feels it's hard to shake the nerves that come along with competing at his local break, but tries to maintain composure for the lengthy season despite the pressure to perform at home.
"I used to get that nervous, excited feeling a few weeks before Snapper, but the year is so long that you try and hold that off as much as you can because once it starts it's hard to stop – it's like a steamroller," Parkinson said. "I'm sure now that once we're a week away my blood will start to bubble and get I'll that feeling soon."
The Gold Coast native has been a perennial threat to the ASP World Title and admits that the elite crown is once again a goal for the year, but is focused on taking one heat at a time in order to achieve success.
"February is too early for me to start thinking about the title race," Parkinson said. "You've got to start winning heats first, and see where you're sitting mid-year and then you can think about it. Winning the title this year is a goal for sure, but I'm not the only one with that goal."
Jordy Smith, who is entering his fifth season amongst the world's best surfers, has spent the offseason at his native pointbreak of Jeffreys Bay to dial in his equipment for the season opener at Snapper Rocks while maintaining his high-level of fitness.
"I had some really good waves at home and I've been going to J-Bay a lot to work on my boards for Snapper," Smith said. "If a board doesn't go good there it's not going to work anywhere. It's such a good wave that you can stand up and feel every little bump in your boards. I've been testing fins as well, seeing which fins work with what boards. I think in my first couple of years I lost some heats because I wasn't that dialed in with my equipment, so I'm just working on eliminating that. I've also been staying fit with some training."
Smith, a former runner-up at the Quiksilver Pro Gold Coast (2010), is looking forward to tearing into the high-performance righthander of Snapper Rocks and is hungry to take out this year's season opener.
"The Quiksilver Pro Gold Coast is one of my favourite events," Smith said. "It's the first event of the year, there's no pressure, everyone's surfing hard and the waves are usually good. They've got a sick trophy too, I got second there once so I'm really going to try and win one."
Smith has established himself as a serious threat in the race for the ASP World Title and feels the veteran campaigners will return in their usually-dangerous form, but thinks additional young talent will make this year's ASP World Title race an interesting one.
"I think the World Title race will always have the usual suspects, you can never count out Mick (Fanning) and Joel (Parkinson), and there's always Kelly (Slater)," Smith said. "But I think you're going to see some young guns in there too. I also think Julian (Wilson) is going to go pretty hard this year and give it a crack, he's been training super hard."
The South African powerhouse suffered a rib injury while surfing giant Teahupoo in 2011 and is now in top shape to start off the new year.
"I'm feeling better than ever this year, a lot better than last year," Smith said. "My rib is almost back to 100 percent too. A month ago it was still hurting in the surf a little bit, but now it's feeling good."
The Quiksilver Pro Gold Coast will hold a waiting period from February 25 through March 7, 2012 and will be webcast LIVE via http://quiksilverlive.com/progoldcoast/2012
Running in conjunction with the men's event will be the Roxy Pro Gold Coast presented by Land Rover, the opening event in the ASP Women's World Title season.