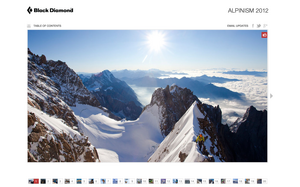 Black Diamond Equipment, Ltd., a leading global innovator in climbing, skiing and mountain sports equipment, announces the release of their Alpinism 2012 digital catalog, the electronic evolution of their iconic print catalog. Set in Chamonix, France—one of the birthplaces of alpine climbing—Alpinism 2012 offers an immersive, dynamic, multimedia experience, blending authentic climbing photos, videos and storytelling elements with a selection of Black Diamond Equipment's most essential alpine products.
"Catalogs have been an integral part of the Black Diamond Equipment brand since the very beginning," explains Laura Fryer, Black Diamond Equipment's Marketing Director. "We wanted to build off of BD's storied print catalog with our new Alpinism 2012 digital catalog and make the experience more interactive and meaningful."
Far more than a traditional print catalog, the Alpinism 2012 digital catalog features inspiring, spectacular imagery and video footage of everything Chamonix alpinism has to offer, from classic ridges to new-age mixed testpieces. Captured by photographer and accomplished alpine climber Jon Griffith, the visual elements are showcased in a user-controlled presentation that allows for zooming, audio captions and dynamic viewing. Black Diamond's award-winning alpine climbing equipment gets equal billing in the digital catalog, with numerous essential alpine products being featured, including carabiners, crampons, packs, gloves and ice tools.
"Choosing alpinism as the theme for our first digital catalog was an obvious choice because alpinism is and continues to be a cornerstone of Black Diamond Equipment…not to mention we have numerous BD employees who are accomplished alpinists, including our CEO and Founder, Peter Metcalf," explains Fryer. "We hope this resonates with climbers and gives them a deeper, more emotive experience when exploring the digital evolution of our catalog."
Moving forward, Black Diamond Equipment has plans to unveil two additional digital catalogs for the Rock Climbing and Skiing product categories in 2012.