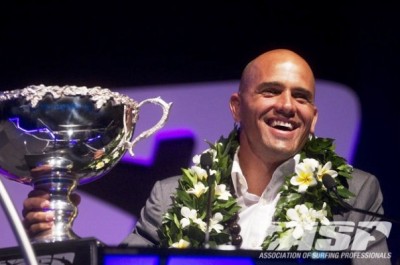 This Thursday, February 23, 2012, the world's best surfers will exchange their ocean wear for formal wear as they attend surfing's night of nights, the 2012 ASP World Surfing Awards. The Gold Coast Exhibition and Convention Centre will play host once again to the gala event, with this year's incarnation adding a number of dynamic new enhancements including headlining entertainment Wolfmother.
This year will mark the first time in history that the ASP World Surfing Awards will be webcast and broadcast LIVE around the world, with the sport's robust international audience able to enjoy the entirety of the official crowning of the 2011 ASP World Champions.
This Thursday will see historic moments in the crownings of the iconic Kelly Slater (USA) 40, awarded an unprecedented 11th ASP World Title, as South Pacific phenom Carissa Moore (HAW), 20, is awarded her first. Slater and Moore represent the youngest and oldest ASP World Champions in the history of the sport. These two stars will be joined on stage by an array of other awards winners across a variety of categories including new awards voted for by the fans and the surfers themselves.
Sal Masekela will return to host the evening, which will feature a number of entertainment acts including Grammy-Award winners Wolfmother, the Vernons and many more.
The 2012 ASP World Surfing Awards will be webcast LIVE via Youtube as well as streamed via broadcast partners. For the first time in history, a limited number of tickets will be available to the public.
While tickets are limited, a small number are still available for purchase via http://www.aspworldsurfingawards.com