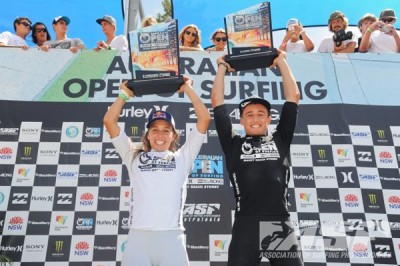 Matt Banting (AUS) and Sally Fitzgibbons (AUS) have taken out the Inaugural Australian Open of Surfing Pro presented by Hurley and Billabong at Manly beach today. The beach was packed with tens of thousands of surf fans for the final day of competition and they were treated to an exciting show with close back-and-forth battles, powerful turns and big airs as the world's best surfers fought for the prestigious crown, precious ASP World Tour ratings points and tens of thousands of dollars prize-money.
Matt Banting (AUS) went back-to-back at the Australian Open of Surfing after claiming the Pro Junior division title yesterday and today winning the blue ribbon ASP 6-Star division. Banting battled hard in the Final against American Evan Gieselman (USA), with both surfers going for broke in the small, but fun surf. The 17-year-old from Port Macquarie took to the air and landed some massive air-reverses that saw him post some big scores and claim the USD$25,000 1st prize and 3,500 ASP World Tour ratings points.
"This has been the best week of my life!" Banting said. "I'm so happy, this is the best feeling I've ever had! I'm shaking so much I can hardly talk. Evan (Gieselman) is a really good surfer, he was blowing up for the whole final, I was really scared. I was just lucky to start off well with a couple of good waves. I just want to thanks my Dad and Mum for supporting me, I love them!"
Evan Gieselman (USA) scored his best ever result at an ASP 6-Star event with his runner-up finish at the Australian Open today. Gieselman took down some big names on the road to the Final with his lethal aerial game, but fell just short in the Final losing by just over one point.
"It was a good match-up, it was really fun surfing against Matt," Gieselman said. "I really want to congratulate him, he surfed really well, and found a couple of good rights that let him do a couple of airs. I would have loved to have won, but 2nd is a great result. I'm doing the whole ASP Star Series this year and I'm looking to qualify for the ASP World Title Series at the end of the year, so this is a great start for me."
Sally Fitzgibbons (AUS) defeated Sofia Mulanovich (PER) in the final of the ASP 6-Star rated Australian Open Of Surfing, both surfers posted decent scores, but Fitzgibbons timed her turns to perfection to take out the event and claim the USD$8,000 winners cheque. Fitzgibbons has been in fantastic form all event, being rewarded by the judges for her ability to link turns together with her trademark smooth style. This week at the Australian Open Of Surfing Fitzgibbons notched four of the top 10 wave scores and two of the top three heat totals, proving that she was the inform surfer of the event and that she's not being hampered by her wrist injury.
"It's unbelievable!" Fitzgibbons said. "I was just focusing on working through my boards and going through some heats and before I know it I'm in the final. Sofia (Mulanovich) is such a tough competitor, I knew she'd be able to get the score needed, so it was a nervous wait at the end there. To win in front of this crowd, with so much support feels amazing! Then to have won the US Open and then the first ever Australian Open back to back is a special achievement."