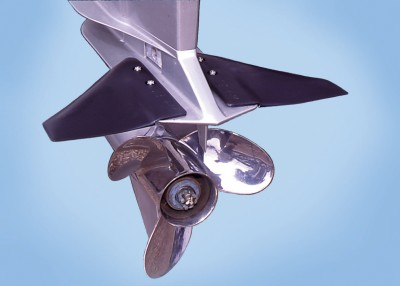 The high performance of a hydrofoil doesn't have to come at a high price.  Helping create safer, more enjoyable times on the water, Davis Instruments offers its popular yet economical Doel-Fin stabilizer.  It maximizes lift without creating excessive drag, helping boats plane quickly.  The efficient design can reduce fuel consumption by up to 30%.
Created by an aerospace engineer, the Doel-Fin boasts a unique two-piece design and a true foil shape.  Each high-strength plastic fin flexes independently to enhance stability and discourage propeller cavitation.  It works on all outboards and outdrives with a cavitation plate and installs in as little as 15 minutes.
Boat owners can experience better visibility, and safety, as the Doel-Fin decreases stern suction and bow rise.  It also steadies the boat during turns and improves control, especially in rough water.
Performance enhancements include faster hole shots and higher top-end speeds.  Doel-Fin also creates consistent planing at lower speeds.  This makes watersports more enjoyable for those at the end of the tow rope, with fewer throttle adjustments for those at the wheel.
The economical Doel-Fin from Davis Instruments comes in black with a suggested retail price of just $37.99.