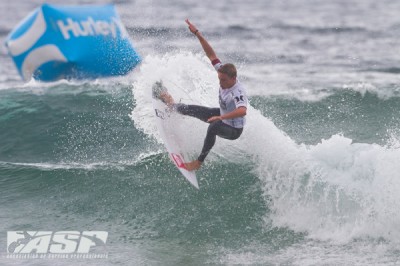 The Australian Open of Surfing presented by Hurley and Billabong has seen surfing's past, present and future stars doing battle in front of thousands of fans at Manly Beach. Today the surfers were forced to put their aerial skills on display in small 2 foot (1 meter) wind swell conditions.
Matt Banting (AUS) is on fire this week at the Australian Open Of Surfing after advancing to the Final of the Pro Junior division on the weekend and today defeating ASP World Title Series surfers – Jordy Smith (ZAF) and Matt Wilkinson (AUS).
"I'm rapt! I'm really happy with my surfing right now," Banting said. "I've made the final of the Pro Junior, and I've been surfing every day since then so I feel like I know the waves pretty well here. It's great to have a heat with those guys, let alone win, they've been my heroes since I was a little kid."
Joel Parkinson (AUS) advanced to the round of 16 with a solid heat win this afternoon alongside Kolohe Andino (USA) who finished 2nd. Parkinson was looking sharp both in the air and on the open wave face and finished the heat with a big air-reverse.
"It's crazy sitting in the water and looking back at a packed out beach," Parkinson said. "The surf is small but we're all dealing with the same conditions, I actually caught some fun ones. I'm a bit of a momentum builder, I don't want to surf my best heat in the first or second round, I want to try and peak towards the end."
Mitch Crews (AUS) continued to impress at the Australian Open Of Surfing, racking up another heat win to advance to the round of 16, the first man-on-man round of the contest. Crews managed to find some long right-handers and belted out some big turns.
"It's fun, it's tiny, but you can still generate speed in the pocket," Crews said. "I saw that Ace (Buchan) went into the lead at the end there and it fired me up, then I got a good wave and tried to go big to take the lead back off him. I'm frothing."
Tomas Hermes (BRA) looked right at home in today's challenging conditions, finding a few nice waves and going big with a couple of clean airs.
"The waves are like where I'm from in Brazil," Hermes said. "It's feels great to win the heat because this contest is so hard and full of really good surfers. This event is huge, just like the US Open, it's great to be here in Manly."
Keanu Asing (HAW) advanced to the next round after finishing 2nd to an in-form Jesse Mendes (BRA). Asing's powerful carves and huge inverted airs have been impressing the judges and the masses of onlookers on the sand.
"To make this heat feels so good, especially after losing first round in Brazil last week," Asing said. "Our heat got lucky we probably had the best waves of the afternoon, so it was great see some nice waves and good surfing. Every heat at this contest is a tough one, I'm just going to keep doing what I've been doing and hopefully go a lot further."
The last heat of the day saw an upset with the number 2 seed, Taj Burrow (AUS) eliminated by Granger Larson (HAW) and Peterson Crisanto (BRA).
Tomorrow the Australian Open Of Surfing will see Men's ASP 6-Star action and will also feature skating competitions and demos, music concerts, athlete signing sessions and much more. The event is free for the public to view in person and live on the internet via australianopenofsurfing.com