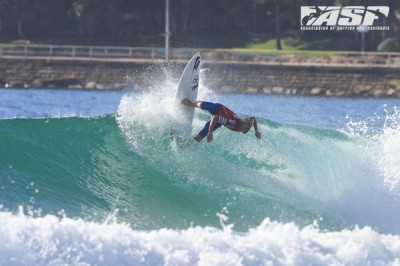 The Australian Open of Surfing at Manly Beach presented by Hurley and Billabong ran a full day of the Men's ASP 6-Star division, with the top seeds hitting the water and putting on a fantastic show. The day saw some monster aerials and huge carving turns in punchy 2 foot (1 meter) surf.
Nat Young (USA) showed that despite the small conditions it's still possible to earn some big scores after he posted the first perfect 10-point-ride of the Australian Open Of Surfing.
"That was the best wave I've had at Manly," Young said. "I just made sure I didn't fall because it was such a good wave and I didn't want to ruin it. I just got here yesterday morning from Brazil and was jet-lagged all day. It was a mission to get here, but that heat was worth it, I'm glad to be here."
Adrian Buchan (AUS) advanced to the next round after finishing 2nd to Brent Savage (AUS) in an exciting round of 96 battle. This is Buchan's first event of 2012 and the Central Coaster is looking sharp, posting an excellent 8.00 (out of a possible 10) in the last couple minutes of the heat.
"It was fun out there," Buchan said. "The waves I got score on I feel like they were tiny, I was just trying to catch the ones that hugged the bank. This is kind of a home event for me, I'm staying with me fiancee's parents house, we spend a bit of time there so it's nice to wake up in familiar surroundings and drive down in your own car, I've also got a lot of friends down here. I'd love to do well here, let's just hope the swell hangs around."
Tiago Pires (PRT) almost missed his opening heat at the Australian Open Of Surfing today. Pires landed at Sydney International airport after a long flight from Portugal this morning and after a slow trip through customs he arrived at Manly Beach five minutes after his heat started. The elite ASP World Title Series surfer immediately went to work and still managed to win the heat, despite the other three surfer having a 5 minute heat start.
"I was hoping to be in one of the lat heats of the day, but when I saw I was in heat 8 I knew it would be tight," Pires said. "I landed at 8am and my shaper Chilli picked me up from the airport, I was getting my board ready and getting changed in the car and paddled out late for my heat. The waves have some push and they're fun, I feel good to win that one."
Josh Kerr (AUS) came flying out of the gates in his round of 96 heat today and scored the highest heat total of the event so far – 18.27 (out of a possible 20). Kerr launched a variety of technical aerial manoeuvres, giving the judges and the crowd exactly what they want to see.
"There was a couple of little waves out there and the wind is really good for airs today," Kerr said. "It was hard to get the good ones, I wanted to go out there and do some turns, but it was so choppy and bumpy, but those chops are good to do some jumps off. I didn't realise I the highest score the event, that's cool. I was just stoked to do a stalefish air-reverse."
Jordy Smith (ZAF) took out his round of 96 heat that was stacked some exciting up and coming surfers Matt Banting (AUS), Thomas Woods (AUS) and Krystian Kymerson (BRA) who finished 2nd, 3rd and 4rd respectively. In 2011 Smith finished 7th on the ASP World Title series despite missing two events with an rib injury.
"That heat was pretty tough," Smith said. "The surf wasn't great, but the grommets are doing well. They're doing airs all over the show, so I just copied them. I haven't surfed in a comp since Pipe last year, so it's good to get going again and get my feet in the wax. It was good to have a break and get my rib injury healed, work on my board and get ready for this year."
Taj Burrow (AUS) posted an impressive win in the last heat of the day, finding a couple of double ups and executing his trademark fins free turns. Burrow was the winner of the last Men's ASP event in Manly back in 1999.
"You mind surf every waves before you go out for a heat, and I was surfing a lot better from the beach," Burrow said. "I'm just finding my feet for the first heat of the event, and I've been waiting all day so it felt good to finally get in the water. I've got some good memories of Manly, I had a great time last time I competed here. I love the US Open and I'm stoked we've now got one here in Australia and I'm here to win it."
Tomorrow the Australian Open Of Surfing will see both Men's and Women's ASP 6-Star action and will also feature skating competitions and demos, music concerts, athlete signing sessions and much more. The event is free for the public to view in person and live on the internet via australianopenofsurfing.com.