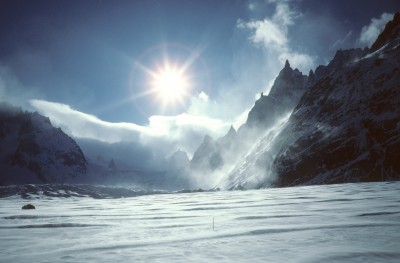 An equally shared love for snowmobiling and snowboarding can result in an unusual hybrid of recreational sports. "SnowMoBoarding" is just one step up from sleds getting towed behind cars. A snowboard towed by a snowmobile offers more exciting mobility on vaster terrain then a car and sled oftentimes reserved to backcountry roads where you still have to be wary of other vehicles.
It's so simple and easy to do, all it takes is two friends, one with a snowmobile, one with a snowboard. The snowmobiler is still free to explore snow-covered trails and ride circles all he wants in an open area. The snowboarder is enabled to cover miles of terrain that would otherwise be really boring and strenuous on the flat terrain by himself. Let's face it – he wouldn't be out there if it wasn't for the snowmobile.
And like anyone who likes a thrill, it's awesome just to achieve those high speeds and jump off a hill or two while out snowmoboarding.
Naturally, the next step from here is a gas-powered snowboard.