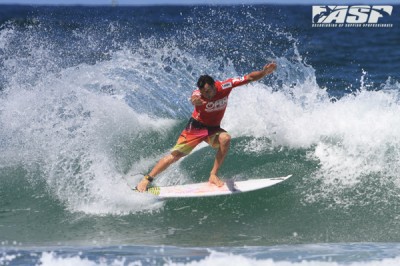 The Australian Open of Surfing at Manly Beach presented by Hurley and Billabong was treated to another exciting day full of surf action. Today saw the completion of the opening round of the Men's ASP 6-Star division, and three heats of round two featuring some of the event's top seeds. The Women's field has been whittled down to just four surfers after a thrilling round of Quarterfinals this afternoon.
Laura Enever (AUS) was looking like exiting the event with a 5th place finish in her Quarterfinal against Pauline Ado (FRA), she was left needing a decent score as the ocean went flat in the last five minutes. But Enever waited patiently and with a mere 14 seconds on the clock she stood up on a nice looking left-hander and launched into a series of sharp turns, easily netting the required score.
"There was a part of me thinking this might be the end," Enever said. "But then I thought – it's never over, you can catch a wave with one second on the clock and get the score. I knew I had to find something and when that wave popped up and I though this is it, this is the one. I'm excited to be into the Semis and to be able to surf on Finals day this weekend."
Sally Fitzgibbons (AUS) faced off against Lakey Peterson (USA) in Quarterfinal 2, which was a rematch of the Final of the US Open in August last year. Fitzgibbons took the heat on both occasions and will now match-up against Laura Enever (AUS) in the Semifinals this weekend.
"It's a good feeling to be through to the Semis for the first event of the year," Fitzgibbons said. "It's exciting to be here at the first Australian Open, and to be able to compete so close to home, I've got all my friends and family up here supporting me. I busted up my wrist just before Christmas and I'm just getting back in the water now, I've got a wrist guard on for support, but it doesn't hinder me too much."
Malia Manuel (HAW) and Joanne Defay (FRA) finished Quarterfinal 3 tied on 11.67 (out of a possible 20) for their two wave heat total. When there's a tie the surfer with the highest single wave score wins, and in this case it was Manuel who won with a 6.67 (out of a possible 10) to Defay's 6.00.
"That was too close for comfort right there," Manuel said. "She needed a 6.01 right at the end and got a 6.00, it was so close! Halfway through the heat a rip popped up right in the middle of the lineup and it made it hard for me to get a back-up score. I really admire the European surfers, they're such a tight-knit crew and they're all surfing great."
Joel Parkinson (AUS), runner-up to the 2011 ASP World Title took out the opening heat of the round of 96 and progressed to the next round alongside Sydney up-and-comer Cooper Chapman (AUS) who finished second. The lead changed multiple times between the four surfers in the heat, but it was the veteran 'Parko' and the young gun Cooper who progressed.
"It's been a while since I've surfed a four man heat, so I was nervous," Parkinson said. "I was expecting to hear 'Parkinson you're in fourth place' over the loud speaker. But it's a good feeling to go out there and catch a few waves. I've been waiting all week for my heat and it's good to get it out of the way, and start 2012 with a heat win."
Evan Geiselman (USA) and fellow American Kolohe Andino (USA) took top honours in the last two heats of the day thanks to a couple of massive aerials. Both surfers scored waves in the 9-point-range and are looking good heading into the round of 48.
Tomorrow the Australian Open Of Surfing will see both Men's and Women's ASP 6-Star action and will also feature skating competitions and demos, music concerts, athlete signing sessions and much more. The event is free for the public to view in person and live on the internet via australianopenofsurfing.com