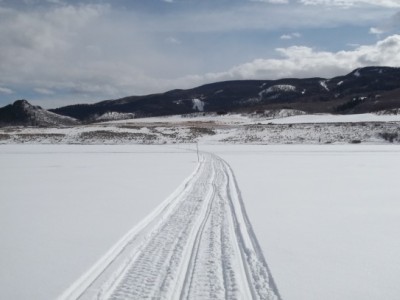 Stagecoach State Park has opened a new Winter Loop cross-country ski trail, sponsored by the Friends of Stagecoach State Park, on the frozen reservoir surface. The 7-mile, 10-ft. wide loop trail is located on ice that is 20 inches thick and has a snow covering of 20 inches, which makes it perfect for cross country skiing or skate skiing.
The staff at Stagecoach State Park patiently waited for the arrival of snow to begin grooming and marking the trail, created thanks to the Friends of Stagecoach State Park. Once a few more inches of snow fall, the trail will be groomed with a track setter for cross-country skiing. The trail is accessible from the Keystone Day Use Area and Morrison Cove parking lot, and the parking lot along County Road 14.
The Friends of Stagecoach State Park generously donated $2,000 toward the purchase of snow poles for marking a trail and grooming equipment. Enjoy ice fishing, cross-country skiing, snow shoeing, sledding, dog sled tours, winter photography, and bird watching during the winter season at the park.
Throughout the winter, Stagecoach State Park offers 8 miles of groomed trails that outline the reservoir and provide winter recreation. The Lake View Trail is 2 miles long and can be accessed from the Keystone Day Use Area or from the parking lot on Routt County Road 14. The 6-mile Elk Run Trail is used periodically by dog sled tours. The tour schedule is located at the tent in the parking lot on Routt County Road 16. Remember the winter trail etiquette rules: Nordic skiers yield to dog sleds, and folks on snowshoes yield to skiers.
Stagecoach is a popular ice fishing destination and currently holds the state record for northern pike. In October 2010, the reservoir was stocked with almost 30,000 trout between
10 to 12 inches. Staff encourages anglers to release stocker size trout to ensure that the spring catch is ample and healthy. Use caution while recreating on ice. Park staff recommends never being on the ice alone, and to not to judge ice thickness solely on the appearance.