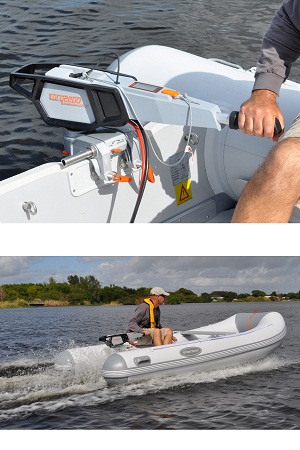 For the first time, West Marine is launching an inflatable tender powered by Torqeedo's Cruise 4.0 Tiller electric outboard and two Power 26-104 lithium manganese batteries.  With this advanced propulsion package, the 12′ hypalon yacht tender planes and speeds through the water at 15.5 mph.  The boat will be on display at the Miami International Boat Show, February 16-20, in Torqeedo's slip #126 and West Marine's booth #2028.
"Because we can now combine the new Torqeedo Cruise 4.0 Tiller with Torqeedo's lightweight lithium manganese batteries, we are able to create this exciting electric planing package for our tenders," said Dave Ungerecht, West Marine senior category manager.  "Tender users now have the power to go fast and go somewhere.  With Torqeedo's Cruise 4.0 Tiller and Power 26-104 lithium manganese batteries, boaters can travel on our tender 15-20 miles, explore waterways and sightsee.  Torqeedo's electric propulsion package is light enough for the tender to plane."
Perfect for boats up to 6 tons, Torqeedo's Cruise 4.0 Tiller electric outboard operates on 48V with 8-9.9 hp.  It weighs only 40 lbs.  A durable and robust drivetrain provides superior power and range from limited battery capacities.
Fully waterproof to IP67 standards, the Cruise 4.0 Tiller model is great for both fresh and salt water.  The tiller display shows information
regarding battery charge status, remaining range, speed over ground and input power.
Torqeedo has been setting the standard for lithium manganese batteries for marine applications since 2006.  Its newest battery, the Power 26-104, weighs only 55 lbs. and offers protection against short circuits, deep discharge, incorrect charging and incorrect polarity.