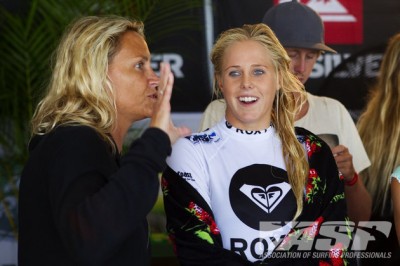 Four-time ASP Women's World Champion Lisa Andersen is throwing on the contest singlet and making a return to competition during The Moskova Trials for a spot in the Roxy Pro presented by Land Rover starting on the Gold Coast on 25th February.
The Moskova Trials will be held on 24th February and the winner will take her place in the main draw of the Roxy Pro.
Andersen, from Huntington Beach, California, last competed in 2004 as a wildcard for the Roxy Pro following her retirement in 2003. Oozing style and grace with great power, she was a fierce competitor capturing four consecutive World Titles from 1994-97.
One of the superstars of professional surfing, Andersen said she felt privileged to be given the opportunity to again paddle out in the World Tour season opener at Snapper Rocks.
"It's really a great opportunity to get back into something I love and to surf Snapper again with the girls and really feel a part of the event again," Andersen said.
"Every year I come and I barely get a wave, this year I'll be able to get out in the water and perform and have some fun. I'm excited. I'm always excited to come to Australia. I really consider it a second home.
"The Roxy Pro is such a great start to the competition year. It's a big perk to be involved. I really hope everyone enjoys the event. I can't wait to get my feet wet and to catch some Aussie waves."
While it may be six years since Andersen last competed, the competitive urge still burns fiercely.
"I really missed the Tour when I first stopped competing, but now there's so many things in my life that keep m e busy – being a Mum and watching the kids grow up, I couldn't live without that now.
"But when I'm free surfing every day, it's always like a part of me is hungry to compete for waves. That never dies within. It always lives on; for me and I'm sure other girls. You're always wanting to try to get better and to get the best wave, and always competing with the boys for waves."
Andersen is a keen follower of the women's World Tour and is amazed by the depth on this year's tour giving it high praise.
"You couldn't ask for a better pool of talent. It's the best in the history of the sport – it definitely won't be a let-down watching these girls compete this year," Andersen said.
"There are a lot of exciting new rookies and some older, experienced girls. There will be some great battles. I'm really looking forward to seeing it all .
"When you're a World Champion you've got to stay on top so Carissa's going to be hard to beat but the other girls are really pushing it and raising the bar. If it's not herself then everyone on the tour. The rookies are hot, I've known a few since they were really young – Malia Manuel and Lakey Peterson – there's some great younger talent. Both Sally and Steph are going to be pretty hungry. There are so many girls who could do it."
Andersen's return is expected to generate plenty of excitement for competitors and spectators alike.
"I think that Lisa has paved the way for so many of the girls in this generation who want to surf with power and grace, and be sexy in the water and be feminine on the land and I think she was the first female to gain that respect from the men in such a male dominated industry," said four-time ASP Women's World Champion Stephanie Gilmore.
"She still rips. I've hung out with her a little bit recently and she is surfing so well. I'm sure she'll do really well."
Both the Quiksilver Pro and Roxy Pro events will be webcast live on QuiksilverPro.com.au, RoxyPro.com.au, Youtube, Facebook and the Quiksilver iPhone app as well as exclusively telecast on Fuel TV. For all the action, interaction, heat alerts, competitions and the latest information visit quiksilverpro.com.au or roxypro.com.au.
The 2012 Quiksilver and Roxy Pro presented by Land Rover is supported by Events Queensland, Corona, Telstra, Schick Hydro, Peters Drumstick, Red Bull, Olympus Cameras, Vegemite SurfGroms, Lipton Ice Tea, Sharpie, VX Sport, Surfing World magazine, Coastalwatch, Gold Coast Airport, Gold Coast City Council, Connecting Southern Gold Coast, World Surfaris and Fuel TV.