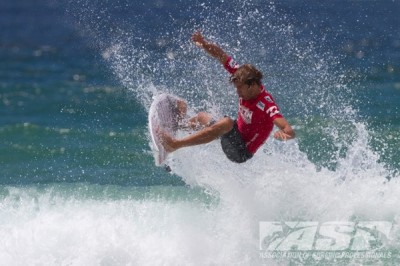 The Australian Open of Surfing at Manly Beach presented by Hurley and Billabong was back on again today with small but fun surf on offer. Crowds lined the beach despite the rain and weather for the chance to see the world's best surfers at one of Australia's most famous beaches.
Eric Geiselman (USA) landed at Sydney airport this morning and two hours later was in a heat against 1999 ASP World Champion Mark Occhilupo (AUS). Geiselman didn't let the jet-lag slow him down, the young Floridian won the closest heat of the day scoring a 13.90 (out of a possible 20) heat total, with Hawaiian Keala Naihe (HAW) finishing 2nd on 13.20 and Occy eliminated in 3rd place with 13.06.
"I have a lot of respect for Occy," Geiselman said. "The conditions were tough out there so I'm stoked to come away with the win. I'm from Florida so these waves are similar to home, you can get moving out there, but it's all about wave selection."
Dayyan Neve (AUS) former ASP World Title Series surfer came out of retirement for the Australian Open Of Surfing which is being held at his local beach. Neve won a spot in the event after finishing 2nd in the trials which featured surfers from the North Steyne and Queenscliff boardriders clubs.
"I couldn't find a wave out there, I was thinking that all my family and friends came down here to watch me lose," Neve said. "But then I got a good one with two minutes on the clock and got the score. I was nervous before the heat, it's been a while since I've done any comps other than boardriders. Now I'm off to put on my suit and go to work."
Luke Cheadle (AUS), another Manly local impressed the judges with a variety of manoeuvres including a big air-reverse to put an exclamation mark on a great heat.
"It was a slow start, a couple of the other guys got some scores and I was stressing," Cheadle said. "But I stuck to my game plan to sit on another bank and wait for the good waves and it paid off. I got a couple of good score and the pressure was off, then at the end of the heat that left came through and I did a safety turn and pulled off an air."
Pauline Ado (FRA) had a happy 21st birthday after she advanced to the Quarterfinals at the Australian Open Of Surfing today.
"I'm pretty happy right now," Ado said. "I was scared for a while because I didn't have a good start to the heat, but then about halfway though I good my good score. The waves are really hard on the high tide, but it feels great to make the heat. I was excited and nervous before the contest because it's been so long since we have had a competition."
Malia Manuel (HAW) also advanced to the Quarterfinals thanks to some solid surfing. 2012 is Manuel's first year in the ASP Women's World Title series and is using the Australian Open Of Surfing to get prepared for the first event on the Gold Coast in just under 2 weeks.
"It was tricky out there today," Manuel said. "I'm just happy to get a couple and make it through. This is my first event of the year and it's nice to get in that rhythm again. This is my first time in Manly and I'm happy to be here, it's great that Hurley and Billabong have put on such a great event for us."
Tomorrow the Australian Open Of Surfing will see both Men's and Women's ASP 6-Star action and will also feature skating competitions and demos, music concerts, athlete signing sessions and much more. The event is free for the public to view in person and live on the internet via australianopenofsurfing.com
IMPORTANT EVENT INFO
The cigarette and alcohol-free event is expected to welcome more than 100,000 people to Manly, the location of the very first World Surfing Championships in 1964 and the first Australian beach to legalise day-time swimming in 1904.
Destination NSW, along with major event partners Hurley and Billabong, expect the Australian Open of Surfing to inject more than $6 million into the local community.
The Australian Open of Surfing is made possible with the support of the following event partners: Destination NSW, Events NSW, Manly Council, Sony, Blackberry, Monster Energy, Fuel TV, Channel [V], The Manly Daily, Surfing World, Reef, Skullcandy, ASP Australasia and Surfing NSW.