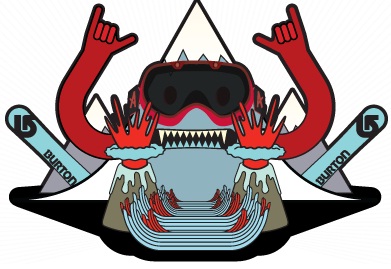 8 days to go. Mr Frost is controlling the Alps. Sufficient snow is around. The shapers of the Mottolino Swatch Snowpark are looking after a challenging set-up of rails and kickers. The invited riders list is confirmed and everything is set for the 6th edition of the BURN RIVER JUMP, which will take place in Livigno, Italy, from February 21 to 23, 2012.
It's in the middle of a strong winter, it's high season for the snowboard-pros. So the BURN RIVER JUMP, the only high level event of the TTR World Snowboard Tour in Italy, is proud to present 10 top names of the international snowboard scene. These riders are seeded into the final rounds due to their TTR rankings and results of the current and last season.
Top 10 Invited Riders List:
Aleksander Oestreng (NOR)
Ulrik Badertscher (NOR)
Staale Sandbech (NOR)
Roope Tonteri (FIN)
Patrick Burgener (SUI)
Gjermund Braaten (NOR)
Jamie Nicholls (GBR)
Arthur Longo (FRA)
Werner Stock (AUT)
Torgeir Bergrem (NOR)
With Aleksander Oestreng (Big Air winner) and Ulrik Badertscher (Slopestyle winner) last year's BURN RIVER JUMP was dominated by the Norwegians. Watching the high number of the Vikings in the invited riders list, it can easily happen again. Strong and stylish riding is guaranteed by Roope Tonteri, winner of the Burton European Open 2011 and current leader of the TTR Slopestyle ranking, UK rider Jamie Nicholls, this season's Burton Rail Days winner in Tokyo and 2011 Burn Jib-Master in Livigno, and the young Patrick Burgener from Switzerland, who ranked 5th last weekend at the Air & Style Innsbruck. Next to Air & Style Beijing winner 2011 Ulrik Badertscher the Burn-Rider-Quartet will be completed by Staale Sandbech, Werner Stock, Arthur Longo.
Ready for spectacular freestyle action are also the riders, who received a wildcard of the organizer. The wildcards were handed out to Jan Scherrer (SUI), Peter König (AUT), Sondre Tiller (NOR), Emil Ulsletten (NOR), Kevin Backstrom (SWE), Eric Beauchlin (USA) and the three Italians Marco Grigis, Simon Gruber and Kevin Kok.
Riders can still register online for the open qualification of the BURN SLOPESTYLE CONTEST until February 17th, 2012, on www.burnriverjump.it. The top 10 slopestyle riders get a spot for the Big Air contest, the BURN RIVER JUMP, and will have the chance to battle for the podium, to win US$ 50.000 prize-purse and to be part of an unique night final in Livigno.
Check Out Teaser Here
BURN RIVER JUMP 2012 – TRAILER from Burton Italia on Vimeo.