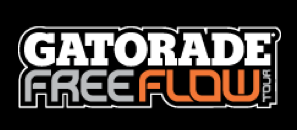 With massive crowds cheering them on, the contestants at the Gatorade Free Flow Tour Finals took to the professional Winter Dew Tour courses in prospect of being crowned the 2012 Champion. Topping a competitive field of the nation's best snowboard amateurs, Brooke Voigte and Kent Callister take the top spot, earning a prequalified spot in the 2012-13 Winter Dew Tour. Sunday saw down-to-the-wire superpipe contests as the snow began to fall on Utah. Callister doubled his win, topping the podium for the second day in a row, along with Kelly Berger.
Saturday the snowboarders took to the rails and immaculate jumps, where Voigte and Callister proved they were ready to make the step up from amateur status. With a 50-50, 50-50 frontside boardslide, tailgrab off the cannon rail, frontside 360, backside 180, Voigte earned her spot in next year's Winter Dew Tour. Closing out the day, the Callister kicked off a weekend of success with his frontside lipslide on the first rail, boardslide to fakie on the 2nd rail, cab boardslide 270 out off the cannonbox, cab 900, frontside 1080.
As the snow finally started to fall on the slopes of Snowbasin, the snowboarders took their best tricks to the pipe. The women went first, where Berger made her first trip to the Finals worthwhile. Her front five, back five, clean straight airs and front seven to cab three earned the highest marks of the contest. Said Berger of her success, "It's really exciting! The Gatorade Free Flow Tour was one of the main things I was focusing on this year, so I'm stoked." Followed by the men's snowboard division, the contest came down to everyone's second runs as they proved their abilities were made to Flow to Pro. Callister, after taking the slopestyle win less than 24 hours earlier, smashed the competition with a score that lead the next contestant by four points. His straight air and front ten were a clean start to his cab seven, front nine, back nine and five. The first Gatorade Free Flow Tour athlete to ever Champion in two disciplines, Callister could hardly express his excitement, saying "It's pretty awesome, I'm really excited about it. I didn't expect it!"
With their wins at the Gatorade Free Flow Tour Finals, Voigt, Callister, and Berger will make their professional contest debut at the 2012-13 Winter Dew Tour, where they will compete against the biggest names in their sport. 
February 10-12, 2012, Snowbasin, Utah

Women's Snowboard Slopestyle
1. Brooke Voigt, Canada
2. Nirvana Ortanez, La Jolla, Calif.
3. Jessika Jenson, Rigby, Idaho
4. Kirra Kotsenburg, Park City, Utah
5. Kelly Berger, Mammoth Lakes, Calif.

Men's Snowboard Slopestyle
1. Kent Callister, Bend, Ore.
2. Mark Reninga, Fredonia, N.Y.
3. Wylie Adams, Carbondale, Colo.
4. Jack Dawe, Freeport
5. Armeen Pirooz, Harrisonburg, Va.

Women's Snowboard Superpipe
1. Kelly Berger, Mammoth Lakes, Calif.
2. Kirby Kelly, Chicago, Ill.
3. Noelle Edwards, West Dover, Vt.
4. Shannon Branthoover, Indian Head, Pa.
5. Maggie Leon, West Simsbury, Conn.

Men's Snowboard Superpipe
1. Kent Callister, Bend, Ore.
2. Josey Chase, Sun Valley, Ore.
3. Brandon Davis, Mammoth Lakes, Calif.
4. Spencer Whiting, Mammoth Lakes, Calif.
5. Max Jenson, Rye, N.H.