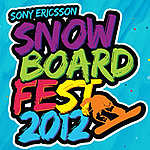 The Sony Ericsson Snowboard Fest is gearing up for it's 12th year and is proud to be the largest snowboard event in Slovakia.  There is still over a week until the event kicks off and the organizers are already reporting a record number of riders registered.  And, after 11 great years at the Drienica ski resort, the 12th edition of the event is moving to a new location at the modern Park Snow Donovaly ski resort.
The head organizer, Joseph Murin, is excited about the record number of riders registered saying "Even now, 10 days before the event, we registered a record number of competitors – till now there are 40 riders.  We haven't recorded such a high number in the previous 11 years.  Professional riders from the Czech Republic, Norway, Finland, Sweden, Austria, Slovenia, Germany and Poland will come to comepete to Donovaly."
The Sony Ericsson Snowboard Fest is a 4Star TTR Big Air event and will kick off on Friday, February 17, 2012.  Riders will be competing for valuable TTR points and a slice of the $10,000 USD prize purse.
Check out www.snowboardfest.sk or www.ttrworldtour.com for more details.