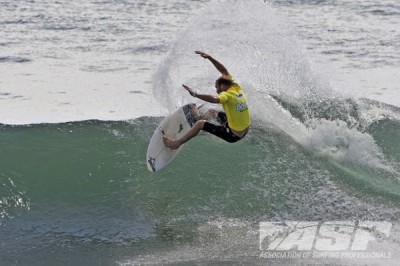 The Breaka Burleigh Pro was back on today with clean 2 – 3 foot (1.5 meter) open faced waves rolling through the Burleigh Heads rock break. Conditions were almost identical to yesterday and competitors were enjoying putting on a show for their peers and the punters on the rocks. The Breaka Burleigh Pro is a 4-Star rated ASP World Tour event offering USD$95,000 prize money and valuable points towards the surfer's ASP World Rankings.
Kolohe Andino (USA) was once again the standout performers of the day, posting the highest heat total of the event thus far 17.60 (out of a possible 20). The young Californian seemed at home in the fun surf at Burleigh Heads, unleashing carving turns and big airs.
"Before my heat I was thinking that I didn't want to do any airs because I want to show people that I can do other things as well," Andino said. "But then I get out there and see an air section and I just have to go for it. I'm just enjoying surfing a heat with no pressure, figuring out boards and I'm looking forward to the rest of the event."
Mark Mathews (AUS) and Cahill Bell-Warren (AUS) advanced out of one of the closest heats of the day with 0.70 of a point separating 2nd, 3rd and 4th. Mathews won the heat thanks to some tight power carves, while Bell-Warren unleashed a series of fast fins-free manoeuvres.
"It was great to have a heat with (Mark) Mathews," Bell-Warren said. "He's one of my idols, he spends a lot of time in Victoria so I get to spend some time with him. We didn't really talk much out there, but we just got into a rhythm and caught a few waves. It's been a while since I've won a heat at Burleigh so I'm stoked."
Ellis Ericson (AUS) used his smooth style to carve out some nice turns and advance to the next round. Although Ericson doesn't compete much anymore, he admitted it felt good to be back surfing a heat.
"It's been about a year since I've been in a competition," Ericson said. "Even though it's not really my thing anymore it's still exciting when the hooter sounds and you still want to win. It's just fun to come up here and see all my friends and guys I used to compete against, and we get to surf Burleigh with just a couple guys out."
Beyrick De Vries (ZAF) was on fire on Burleigh's long rights today, the young South African linked up turns, snaps and airs to take the heat win and advance to the next round.
"I had my board and a plan for surfing the rock break, but then it turned bad just before my heat," De Vries said. "At the last minute I changed my board and decided to go and surf the bank out the back, and I'm so glad I did, the waves were great out there. I've been surfing Burleigh a lot lately and it's really helped me to know where to sit and which waves to catch. I'm loving it here right now."
The Breaka Burleigh Pro is proudly supported by Breaka Flavoured Milk, Events Queensland, Surfing Queensland, ASP Australasia, Channel 7, Nova 106.9fm, SEA FM, Ooh!, Australia's Surfing Life, GCCC, XXXX Summer Bright Lager, JR Surfboards, 5 and a half Sunglasses and Air Asia.
The Breaka Burleigh Pro will be broadcast LIVE via breakaburleighsurfpro.com.au
Daily TV newsfeeds and high quality complimentary digital images along with press releases will be made available throughout the event.
The Breaka Burleigh Pro will commence on February 8 and conclude February 12, 2012.