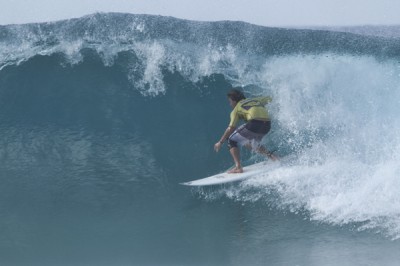 Cacimba do Padre beach is known for its transparent water and barreling waves. Once again, it did not disappoint as new records were set by Chris Ward (USA) and Dion Atkinson (AUS) at the ASP PRIME Hang Loose Pro Contest 2012 on the Fernando de Noronha Archipelago.
You could say that today's competition was split up into two parts. The day started off with 3-4 foot waves (1-1.5 meters) breaking towards the middle of the beach, but after four heats, conditions started to deteriorate during low tide and officials were forced to postpone competition until one o'clock in the afternoon. By two o'clock, the competitors were back in the water, getting higher scores with larger sets coming in and longer tube rides.
Scoring an 18.10 out of a possible 20 points, Chris Ward had the highest-heat total of the day with a 9.63 and an 8.47 on two beautiful tube rides.
"I started the heat off pretty slow, and it seemed like there weren't going to be many waves," said Ward. "I saw Filipe (Toledo, BRA) catch a good righthander and I paddled over to where he was and that's when I got that nice 8.47. After that, a left came in and I almost didn't paddle into it. It looked like it was a close-out, but I dropped in, waited, the barrel opened up and I came out. It was a long tube ride and I was stoked for getting a 9.63."
The only athlete in competition today to out perform Ward, was Australian surfer, Dion Atkinson. Atkinson, who had a Runner-Up victory in last year's Hang Loose Pro Contest also had a slow start in his heat with a 6 point ride. But he paddled into a sensational lefthander, caught a deep tube, came out cleanly and was rewarded with a 9.9 out of a possible 10 points.
"I didn't know I got the top score so far," said Atkinson. "That was an awesome wave. In the middle of the tube everything went white for a few seconds and I couldn't believe I got passed the foam, it was amazing. It was one of the best barrels I've ever caught at this beach without a doubt. Catching a huge tube in a heat is a bonus for anyone."
Other surfers to take advantage of the improving conditions were Sebastien Zietz (HAW), who scored a 17.90 total to qualify alongside CJ Hobgood (USA) in their heat, and Ricardo dos Santos (BRA) who scored a 9.87 on his best wave and also made it into Round 3 (No Losers Round).
"Honestly, I wanted a 10 on that one but for a different reason," said Santos. "I lost my board and had to swim to the beach and on shore Willian (Cardoso, BRA) told me: 'I know you're going to get a 10, go get it!' I had that in my head as I paddled back out and after I got that tube I thought I got it, but I guess a little something was missing."
The Hang Loose Pro Contest continues tomorrow at 7am (local time) beginning with Round 3. The first surfers in the water will be Kiron Jabour (HAW), Nic Von Rupp (GER), Marc Lacomare (FRA) and Bruno Rodrigues (BRA).
The Hang Loose Pro Contest is an ASP South America sanctioned event and is the introductory ASP World Prime event of 2012, sponsored by Hang Loose and in partnership with the State of Pernambuco through EMPETUR, the Secretary of Tourism, the Administration of Fernando de Noronha, Projeto TAMAR and co-sponsored by Overboard, Bleat, Hot Water, Central Surf, Sthill, WQSurf, Tent Beach, Star Surf, Supertubes, K&K, Cut Wave and Red Beach. The event comes with the support of the Pernambuco Surf Federation, the Northeastern Surf Association, Fluir Magazine and Waves Website.
The event is transmitted live at: http://www.hangloose.com.br/procontest2012/default.asp