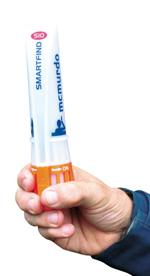 Leading brand of emergency location beacons McMurdo will be exhibiting the Smartfind S10 Automatic Identification System (AIS) Beacon at the 2012 Miami International Boat Show, February 16-20 at the Miami Beach Convention Center (booth O 65).
When manually activated, the Smartfind S10 uses AIS and GPS technology to give precise location information to aid the recovery of people in difficulty at sea.
Waterproof to 60 meters, buoyant and compact, this unique device can make all the difference in a localized search situation. The chances of being rescued are greatly increased thanks to its ability to transmit both AIS and GPS data to the vessel the individual has come from and to other AIS equipped vessels within a four mile radius.
The Smartfind S10 AIS Beacon features a built-in GPS receiver and transmits target survivor information, including structured alert messages, GPS position information and a unique identity number. Bearing and distance information is accurately transmitted and displayed on the AIS receiver or plotter screen, giving potential rescuers all the information they require to carry out swift retrieval of an individual.
The Smartfind S10 AIS Beacon will transmit continuously for a minimum of 24 hours, regularly update position information, and has a five year battery storage life. The beacon also features a flashing LED light to assist with visual fixing and night-time location. With a simple two-stage manual activation, the beacon is easy to activate even when wearing gloves.
For more information about the Smartfind S10 AIS and other McMurdo products, visit booth O 65 at the 2012 Miami International Boat Show or www.mcmurdo.co.uk.
As Type Approval is underway, the following statement is required by law: This device has not been authorized as required by the rules of the Federal Communications Commission. This device is not and may not be offered for sale or lease, or sold or leased until authorization is obtained.