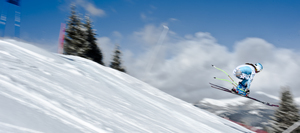 It's been quite a celebration for Spyder-sponsored skiers as they dominated the race podiums in Garmisch and Chamonix over the weekend. Julia Mancuso, one of Spyder's top female athletes, earned her first World Cup victory of the season by placing first in the women's Super G race on Sunday. Super Jules, as known by her fans, adds the win to her growing arsenal of podium finishes this season. A three-time Olympic medalist, Mancuso won silver in Super G on the same hill last year.
Fellow super star, Lindsey Vonn, also took the podium for an historic 50th World Cup win on Saturday in the women's downhill. Clad in her new U.S. Ski Team Spyder downhill suit for the victory, Vonn accepted her ninth win this season and maintains the World Cup overall lead by nearly 500 points.
The Canadian Cowboys lit up the racecourse in Chamonix with Jan Hudec taking the win in downhill on Saturday. Eric Guay joined him on the podium in third place, with fellow teammate, Benjamin Thomsen earning fifth for the men's World Cup standings. All three skiers wore their signature Canadian Olympic race suits, as designed by Spyder. Bode Miller, also decked out in Spyder gear, finished up 8th for the weekend.