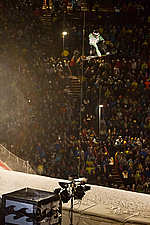 Peetu Piiroinen (FIN) wins the 6Star Billabong Air&Style with steady Backside 1260 mute grabs all evening long. Seppe Smits (BEL) takes the TTR Big Air Tour Trophy 2012 home, after coming in second here at the Bergisel Stadium in Innsbruck, closely followed by Niklas Mattsson (SWE).
'Winning the Big Air Tour Trophy was unexpected, I was very happily surprised.' commented Seppe Smits. Congratulations came immediately from 3 time TTR Tour winner Peetu, who won tonight with a clean and stylish Backside 1260 mute grab. Peetu is back after wrestling with injury, but is again landing all his tricks with his exceptional ease. He responded: 'It was a great night, and it felt really good being here. This was definitely one of the hardest competitions for me, with everyone stomping it.'
Under icy conditions 12.500 spectators set fire to the Bergisel stadium for one of the most thrilling Air&Style competitions ever. A gripping final was the perfect conclusion of an action packed night. With final scores not more than 0.6 points apart, it was clear the riders gave it their all. Peetu Piiroinen took home the ring of glory and another 1000 points for the World Tour Rankings. More surprising action was put down by Swedish Niklas Mattsson, who rounded up the podium after holding his own against 3 clear favorite opponents in the final, including former Air&Style winner Sebastien Toutant (CAN). Niklas got the crowd to go wild with his second run, a Frontside 1080 Double Cork Mute Grab.
Eric Willett (USA) earned the second highest score of the night with a Switch Backside 1260 Double Cork Mute Grab, worth 94.0 points, but failed to make the Superfinal after encountering Peetu Piiroinen in the second round. He had the biggest chance of winning the TTR World Tour Big Air title, but missing the Superfinal tonight, meant he had to watch Seppe claim the championship. Tonight's performances had a major influence on the TTR Overall Tour Ranking, with Seb Toutant now leading the pack, and Stale Sandbech (NOR), Roope Tonteri (FIN), Seppe Smits and Eric Willett all move up, rounding up the top 5.
The TTR World Tour will move to Oslo, Norway from 10-19 February, crowning male and female Halfpipe and Slopestyle World Champions at the first World Snowboarding Championships for snowboarders by snowboarders since 1999.