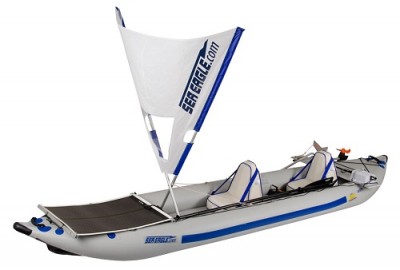 Adventurers who wish to explore secluded waters, travel long meandering rivers or motor through intimate salt marshes can do all this with the new Sea Eagle FastTrack e385 & e465 Green Machine Packages.  Powered by a 1 hp Torqeedo Ultralight 403 electric motor, these kayak packages come with a Sea Eagle FastTrack inflatable kayak, 23 Watt PowerFilm flexible solar panel, Sea Eagle QuikSail and one or two Sea Eagle paddles.  They are debuting at this year's Miami International Boat Show, February 16-20 in booth #J60-62.
These Sea Eagle FastTracks are the forerunners of a new generation of environmentally friendly craft that enable owners to utilize multiple propulsion sources.  Owners can sail when the wind is with them, paddle when they are in the mood and motor when facing stiff winds.  And if the sun is out, they can motor at slow speeds for hours as the solar panel keeps the motor's lithium manganese battery charged.
Torqeedo's Ultralight 403 features a propulsive power equivalent to a 1 hp gas outboard.  Completely submersible and IP67-rated, it will operate even when fully submersed.  At slow speed, it provides a range of 12-15 miles.  An integrated board computer combines information from the motor, batteries and a built-in GPS, enabling kayakers to monitor battery charge, speed and remaining range at current speed.
The ultimate, true zero emission craft, the FastTrack kayaks are very lightweight and easy to transport.  The e465 package weighs just under 70 lbs., yet holds an amazing 795 lbs. of passengers and gear.
Sea Eagle FastTrack Kayaks will go straight in whatever direction the user wants and hold a course no matter what angle they are paddling or motoring, in relation to the wind.  Its extraordinary performance is due to its patent-pending drop-stitch outside keel, inside drop-stitch floor and large removable skeg.  The PowerFilm Solar Panel will fully charge the 23 watt lithium battery in 16 hours.
Combining lithium batteries with leading-edge motor technology and propeller design, Torqeedo's high-tech outboards have won numerous awards.  Environmentally-sound, they offer unrivalled strength and efficiency for superior range.