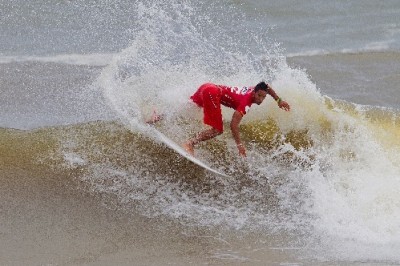 Medi Veminardi (REU) was crowned the 2011 ASP European Junior Champion and went on to finish at an excellent 3rd place in the Billabong World Junior Championships in Australia earlier this year.
The 21 year-old from Reunion Island will now be representing Europe on the International stage in an ever growing field of talent. We caught up with Medi in between events in Australia.
Hi Medi, congratulations on your 3rd place in the World Juniors on the Gold Coast!
Thanks. I'm a little confused right now, super stoked to end my junior career with a bang but at the same time a little disappointed for not winning it! I know I could have, I had a really slow semi-final with no waves and when that happens it's all about the tactics..
You were crowned the 2011 ASP European Junior Champion, can you tell us more about your season.
Yeah I had an absolute blast for my last Junior season in Europe, winning the title at the end of the year was unbelievable!
My only regret was a loss in Trois-Bassins (Reunion Island) on the first event because I was home, but to come back and win the Title then makes it even more enjoyable. 2011 was just great I had a couple of bad seasons before with injuries getting in the way of making it to the top.
I think what I enjoyed most was being really consistent throughout the whole season (5 podiums in 7 events), that was definitely my goal. Getting to the final event in Newquay with a lot pressure on my shoulders was hard but I'm really happy with the way things went, winning the title there. I've worked a lot last year and I feel like I deserved the happy ending!
The World Juniors has a history with all the best surfers in the World being revealed to the public there, how did you feel coming into the event ?
It's definitely super impressive and as soon as the competition begins you can feel that this is a particularly important event, with all the media there and an amazing structure like on the World Tour.
I came in well prepared, I trained at home in Reunion before the event and Burleigh being a righthander I was pretty confident I could do well. I was focused and determined on winning the event, and I think a 3rd place is a great result.
On your way to the Semis you eliminated the former World Junior Champion Jack Freestone, what do you think are your strengths in competition ?
I really felt the pressure the night before, because he was the absolute favourite, at home and his sponsor organized the event, so everyone was talking about him. But I was super motivated and like we say in Reunion «ma pa l'air ek ca», I just focused on myself and did what I needed to do! I think my strongest quality is being able to focus on the right things when I'm in a heat.
That was your last year in the Junior division and now you're part of the Star Tour, what are your objectives for 2012?
As a first year I have no seeding and it's really hard. I'm going to focus on doing well in all the events so I can start 2013 in a stronger position. Most of the events I'll do are in Europe so I'll keep an eye on the European rankings as well!
How hard is the Tour for a young European, and how do your organize your trips ?
It always depends on the event. This year I hope I can go to at least one event with my entourage, family and friends, but most of the time we're travelling with other competitors, most of them I'm really good friends with!
Thank you for your time Medi, we wish you the best for 2012!
Cheers!