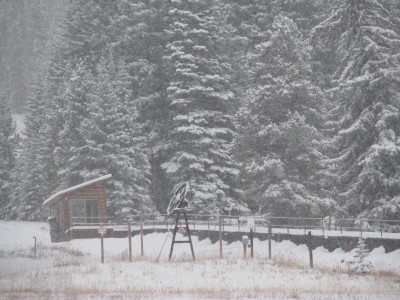 Ski Cooper proudly announced today that it has added a new magic carpet to enhance its ski school offerings. "Our new EZ Street Magic Carpet will help never-evers and beginner skiers and snowboarders have an even more enjoyable experience learning how to ride the snow," said Ski Cooper Marketing Manager Bob Casey. "It gives our highly qualified ski school instructors a better way to provide their students with an easy and fun way to get up our beginning area at the mountain."
The new EZ Street Magic Carpet is installed at the base of the mountain, where the Printer Boy platter surface lift used to be. At approximately 770 feet in length, it can bring 77 skiers or snowboarders up at one time. The new EZ Street Magic Carpet took approximately four months to install over the 2011 summer months.
"We have looked forward to adding this capital improvement at Ski Cooper and know it will significantly provide our guests that utilize our great beginning area with a much more efficient and fun experience at our learning area," said Ski Cooper President and General Manager Clint Yant.
Get information about Ski Cooper's reknowned Ski and Snowboard School offering learn-to-ski packages for never-evers, beginners, adults, children, snowboarding, skiing, telemark skiing and women's clinics.