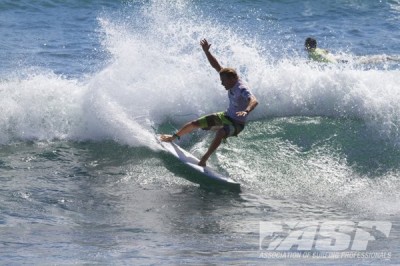 It's summertime and the world's best surfers are headed down under for the prestigious Australian leg of the ASP World Tour, starting with the ASP 4-Star Breaka Burleigh Pro. Queensland's current crop of surfing heroes including two-time ASP World Champion Mick Fanning (AUS), Julian Wilson (AUS), Josh Kerr (AUS), Bede Durbidge (AUS) and Jay 'Bottle' Thompson will lead the local contingent in their first event of the 2012 season.
They'll be joined by ASP Men's World Tour competitors Kieren Perrow (AUS), Brett Simpson (USA), Adam Melling (AUS), Matt Wilkinson (AUS), Dusty Payne (HAW) and Kolohe Andino (USA) at the birthplace of modern competitive surfing, the iconic Burleigh Heads. Bolstering the stellar list of competitors will be event wildcard and 1999 ASP World Champion Mark 'Occy' Occhilupo (AUS) with fellow Snapper Rocks local Jay Phillips announced as the 'Win a Wildcard' (online voting competition) for Queensland Boardriders Clubs and Burleigh Heads Boardrider Kyle Robinson who was granted a local wildcard into the event.
Bede Durbidge (AUS) finished 16th in last year's ASP World Title Series and is hungry to break back into the top 5 and will be using the Breaka Burleigh Pro to help prepare for his 2012 campaign.
"I love surfing Burleigh! It's pretty different to Snapper and Currumbin so it's good to go out there and mix things up," Durbidge said. "I'm feeling good, I had a really good break over Christmas and New Years and since then I've been training and working on boards, getting ready for this year. I'm not putting pressure on myself for this event, it's just more of a warm up for the year, getting used to heats and getting boards ready again."
The Gold Coast has seen some excellent surfing conditions over the past few days and Contest Director Adam Yates is confident that this will continue throughout the week and well into the Breaka Burleigh Pro waiting period.
"There looks like there will be plenty of swell and favourable tides during the initial part of the waiting period," Yates said. "So fingers crossed Burleigh Heads turns it on again for the world's best surfers."
The Breaka Burleigh Pro is proudly supported by Breaka Flavoured Milk, Events Queensland, Surfing Queensland, ASP Australasia, Channel 7, Nova 106.9fm, SEA FM, Ooh!, Australia's Surfing Life, GCCC, XXXX Summer Bright Lager, JR Surfboards, 5 and a half Sunglasses and Air Asia.
The Breaka Burleigh Pro will be broadcast LIVE via breakaburleighsurfpro.com.au
Daily TV newsfeeds and high quality complimentary digital images along with press releases will be made available throughout the event.
The Breaka Burleigh Pro will commence on February 8 and conclude February 12, 2012.