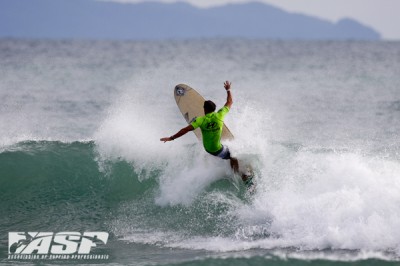 The 2011 Association of Surfing Professionals (ASP) World Longboard Champion Taylor Jensen (USA) is heading to New Zealand to contest the Hyundai Tour this week for the first event of the Australasian ASP Longboard Qualifying Series. The Hyundai Tour event is being held at Sandy Bay, Whangarei from Friday this week and will run through to Waitangi Day on Monday (3 – 6 February).
Jensen confirmed his entry late last week and will travel from California to contest the ASP 1-Star rated event.
"I just love being in New Zealand and seeing all my friends down there and being able to compete in the tour here and there. It's one of the best run events in the world and it's always a pleasure to head over for it," Jensen said while packing for the long journey across the Pacific.
Jensen has the ASP World Surfing Awards to attend and receive his ASP World Title trophy at the end of February so figured a detour through New Zealand would work well with his travel plans.
He will only be in the country for a five day whirlwind stop taking in the Sandy Bay event before travelling back to his second home of Australia where he has not been in the last three months.
Jensen claimed his World Title in Italy last November after finishing runner-up in the final event of the year. It is the first time the American surfer has held the Title despite his amazing talent on the longboard.
"Not that much has changed really," said Jensen. "I'm a lot busier now. I have a few more commitments than usual but other than that, things are still very much the same. I've managed to secure a few new sponsors so that's been a huge bonus."
Along with Jensen, the event has attracted a number of top longboard and stand up paddleboard surfers including world number 14 ranked Jared Neal (AUS) and number 21 ranked Mitch Surman (AUS). Surman placed runner up at the Sandy Bay event in 2011.
The Sandy Bay event is the first of three on the ASP Australasian LQS with two events remaining at Kingscliff, New South Wales and Perth, Western Australia. The top two surfers on the ASP Australasian LQS gain automatic qualification to compete on the ASP World Longboard Tour.
Entry into all events can be completed at http://www.surfingnz.co.nz under "events." Complete the entry process online or download entry forms and send them in. The 2012 Hyundai Tour is expected to receive high entry levels at each location, so entries will need to be in well before the cut off dates to assure participants get a slice of the action.