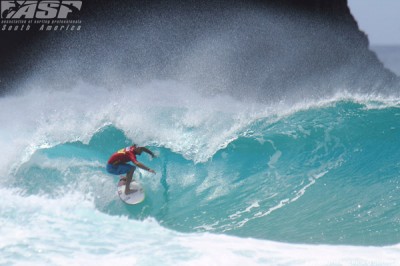 The pristine islands and transparent barrels of Fernando de Noronha off the northeastern coast of Brazil will be home to the first ASP PRIME event of 2012 hosting the 26th annual Hang Loose Pro Contest. Held from February 7th until the 12th, 96 of the world's best surfers from 16 different countries will be going after $250,000 dollars in prize money and crucial ASP ranking points for qualification onto the ASP Dream Tour.
Leading the charge as the Top Seed in the event will be the 18 year old Brazilian sensation, Gabriel Medina. Last year, Medina fought his way onto the Dream Tour and won an unprecedented two ASP World Tour events in his first four on tour; something that not even Kelly Slater was able to accomplish in his career.
Alongside Medina, fellow World Tour competitor and 2011 Hang Loose Pro Contest event winner, Alejo Muniz, 21, (BRA) will be in the hunt for another victory on the island known as the "Brazilian Hawaii".
Other Hang Loose Pro Contest event winners who will be competing this year will be CJ Hobgood (USA, 2010), Raoni Monteiro (BRA, 2008), Aritz Aranburu (EUK, 2007) and Jean da Silva (BRA, 2006) to add to the already stiff competition.
Although the official commencement to the ASP PRIME Hang Loose Pro Contest only begins next Tuesday (February 7th), two surfers will be invited into the main event through classification from the Trials event held this weekend at Cacimba do Padre beach.
The Archipelago of Fernando de Noronha is a natural reserve and is protected by the Brazilian Environmental Protection Agency (IBAMA) and Projeto TAMAR, which is responsible for the protection of the exuberant marine life which includes sea turtles, dolphins and a wide array of wildlife that inhabit this delicate ecosystem.
The Hang Loose Pro Contest is an ASP South America sanctioned event and is the introductory ASP World Prime event of 2012, sponsored by Hang Loose and in partnership with the State of Pernambuco through EMPETUR, the Secretary of Tourism, the Administration of Fernando de Noronha, Projeto TAMAR and co-sponsored by Overboard, Bleat, Hot Water, Central Surf, Sthill, WQSurf, Tent Beach, Star Surf, Supertubes, K&K, Cut Wave and Red Beach. The event comes with the support of the Pernambuco Surf Federation, the Northeastern Surf Association, Amazoo Açaí, Fluir Magazine and Waves Website. The event is live – http://www.hangloose.com.br/procontest2012/default.asp